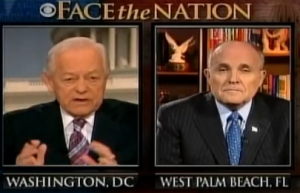 Former New York City Mayor Rudy Giuliani appeared on Face the Nation and suggested that in Sarah Palin's video on the Arizona shooting "she used a wrong word in responding to it, but I can see why she would feel very upset." Rudy understood why Palin would be "shaken" by the accusations of some to link her to the murders, but implied that some term other than "blood libel" should have been used to express her feelings.
Rudy also commented on whether now is the time for stricter gun control laws:
"It would seem to me that you'd address this with the most relevant problem first. The most relevant problem was the lack of an ability to deal with what was apparently paranoid schizophrenia that should have been treated. Then I would reestablish a situation of civility, which we seem to be doing, so we can talk to each other about gun laws without yelling at each other. We do those first two things – I think we could take a look at gun laws and see what can be done that doesn't affect the constitutional rights that people have to have guns."
His hesitation to prioritize gun control, not a popular issue with conservative Republicans, may be linked to his revelation that in the past few weeks he has thought about possibly running for President again. And with Palin's "wrong" word choice, Rudy now might be thinking about running even more seriously.
Watch the clip from CBS below:

Have a tip we should know? tips@mediaite.com