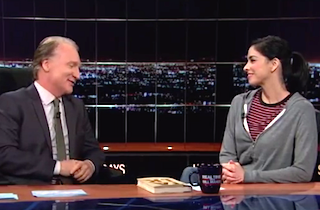 Comedian Sarah Silverman has made women's reproductive rights one of the major causes of her life, but on Friday night's Real Time with Bill Maher she made a shocking admission: She's never had an abortion.
Silverman told Maher about the fundraiser she helped put together in Texas that aimed to provide finding to asset women who need to travel 10 hours from their homes to get safe, affordable abortions. While she was there, she confronted protesters from the Westboro Baptist Church, including a 9-year-old girl who was holding a sign that read "Abortion is Bloody Murder."
"We have to see them as human," Silverman said, "and hopefully maybe they will see us as human." When the protesters told her she was going to hell, she replied, "I can't! I don't believe in God."
RELATED: 'Jesus' Visits Sarah Silverman to Deliver a Message About Abortion
She said her aim is show these people "a human face to this side that they only know as 'people who want to murder babies.' And meanwhile, it's goo. It's goo that they're so worried about. And they're born, and it's you're on your own, slut."
"And the truth is, and I don't like to admit this," Silverman continued, "I've never had an abortion and I don't know if I would. But it doesn't mean that I wouldn't fight to the death for women to make their own choices for their own human bodies."
"Thank you for being brave enough to admit you've never had an abortion," Maher joked in response.
Watch video below, via HBO:
Anyone who watched The Sarah Silverman Program on Comedy Central could not be faulted for believing Silverman had one or more abortions in her past. In a 2007 scene from the show, the fictional Sarah Silverman looked back fondly at the three procedures she had throughout the Reagan, Clinton and Bush administrations.
Watch video below, via Comedy Central:
[Photo via screengrab]
— —
>> Follow Matt Wilstein (@TheMattWilstein) on Twitter
Have a tip we should know? tips@mediaite.com