'Sean, Take a Breath': RNC Spox Goes Off on MSNBC's Mitchell for Defending Clinton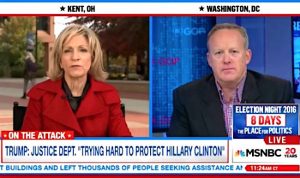 Republican National Committee spokesman Sean Spicer went on a passionate tangent on Monday as he said the press was protecting Hillary Clinton from the fallout of the FBI's new look at her emails.
Andrea Mitchell had Spicer on for a discussion, and she asked him whether Donald Trump is right to call the development "the worst thing since Watergate," when very few new details have actually been proven. Spicer argued that it wasn't FBI Director James Comey's fault that Clinton had a private server and that Huma Abedin didn't turn over the potentially-relevant emails discovered on her laptop.
Mitchell mentioned that Abedin shared the device in question with Anthony Weiner, but Spicer was not having it with the notion that Abedin didn't know that her estranged husband might have been privy to classified information as he was sexting underage girls.
"I cannot believe that we are sitting around having a discussion about the fact that her defense is, well, my husband may have been sexting with underage women. I didn't realize he may or may not have had access to a computer I had, which may or may nod have had classified information. This is mind-blowing!"
Mitchell tried to interject and said "Sean, take a breath," but Spicer pressed on about the "national disgrace" of putting the burden on Comey for Clinton and Abedin's transgressions.
As the discussion progressed, Spicer called out Clinton and her supporters for a "double standard" in blasting Comey after previously praising him when he said months ago that there wasn't a case against her.
Watch above, via MSNBC.
[Image via screengrab]
— —
>> Follow Ken Meyer (@KenMeyer91) on Twitter
Have a tip we should know? tips@mediaite.com