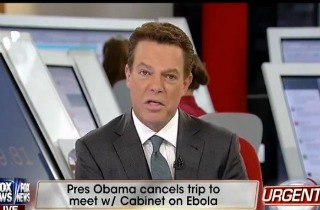 Fox News anchor Shepard Smith on Wednesday lit into the news media for what he described as unproductive coverage of the Ebola cases that have been found and treated in the U.S.
Smith's moment came after a report from his colleague Doug McKelway, who concluded that Ebola has caused "widespread panic across the country."
Smith jumped into his soliloquy.
"Oh my god. Doug, I appreciate it, but I think we both know there's no widespread panic across the country," Smith said before turning to face the camera. "But I think we know that. And I think we also know that if there's widespread panic, it's not based in fact and it's not based in reason. And I think more than anything, those are just words that people on TV sometimes use."
-RELATED: Concha: Fear, Mystery and Speculation Means Ebola Coverage Could Reach O.J. Levels Quickly
Smith said the Ebola epidemic in West Africa and the cases treated in the U.S. are "very serious" but that "the rest of this (media coverage) should stop because it's not productive."
The anchor continued: "And it's not worth ratings and it's not worth politics and we all need to stop it because some day there may be a real panic."
Unlike in West Africa, known cases of Ebola transmission in the U.S. have been limited to one Liberian man who died from it in Texas and two nurse who contracted it while caring for him and are now undergoing treatment. Other Ebola patients in the U.S. contracted the disease while abroad and have also been treated.
Watch via Fox News:
[Photo via Fox News/screen grab]
— —
>> Follow Eddie Scarry (@eScarry) on Twitter
Have a tip we should know? tips@mediaite.com