Tech Expert to NBC Reporter on Obamacare Roll-Out: Without Changes, 'This Project is Doomed'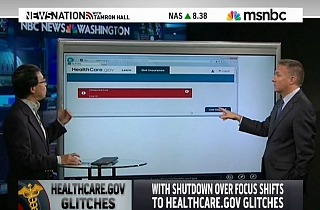 In a report which aired on MSNBC on Thursday, NBC News reporter Tom Costello examined the software which users access in order to sign up for health insurance exchanges under the Affordable Care Act. The report was highly critical of the software on Healthcare.gov. Without significant changes, one expert said, the future of the ACA exchanges was in doubt.

Costello began by noting that some estimates, including a study performed by Millward Brown Digital, note that less than one percent of visitors to Healthcare.gov were able to purchase insurance.
"Amateur hour," said software programing company owner Luke Chung. "It looks like it was created by someone who's never delivered commercial software before."
"Programming experts say a lot of work needs to be done," Costello reported.
"If they don't change management, this project is doomed," Chung concluded. "Because we've already seen what the existing management considers ready for shipping. And it's not."
RELATED: Analysis: 0.4% of All HealthCare.Gov Visitors Enrolled in First Week
In a follow up conversation with MSNBC anchor Thomas Roberts and Washington Post reporter Juliet Eilperin, they noted that insurance exchanges on the state level appear to be functioning but the federal version of that system has not functioned as expected.
"So how is the White House supposed to respond to this?" Roberts asked. "Because is the onus supposed to be on the state or the federal government taking responsibility for it, or is this a purposeful way to make it look so messy so that there has to be something more done?"
Eilperin said that this was a question for the administration. She again noted that the government has not released statistics about how many insurance shoppers have been able to sign up for the exchanges.
Watch the clip below via MSNBC:
[Photo via screen grab ]
— —
> >Follow Noah Rothman (@NoahCRothman) on Twitter
Have a tip we should know? tips@mediaite.com