Ted Cruz Goes Off on Dem Effort to Reverse Citizens United: 'Where Did the Liberals Go?'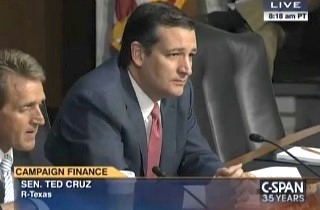 On Tuesday, during a Senate hearing on Democratic efforts to address campaign spending by introducing a constitutional amendment which would reverse a variety of recent Supreme Court decisions, Sen. Ted Cruz (R-TX) went off on his Democratic colleagues. The conservative senator insisted that, while campaign finance reform was an important issue, amending the Constitution to add new limits to the First Amendment is an illiberal course of action.
"This amendment, here today, would repeal the free speech protections of the First Amendment," Cruz said. "As immune as we are to abuse of power from government, citizens are still astonished that members of Congress would dare support repealing the First Amendment."
"When did elected Democrats abandon the Bill of Rights?" Cruz asked. "Where did the liberals go?"
He went on to cite the late Sen. Ted Kennedy (D-MA) who attacked what Cruz said was a similar effort to undermine the First Amendment in 1997. "Campaign finance reform is a serious problem, but it does not require we twist the meaning of the Constitution," Cruz asserted.
RELATED: Ted Cruz: Senate Dems Are Trying to Repeal the First Amendment
"If this amendment passes, Congress can say, 'You the citizens are no longer citizens. You're subjects,'" Cruz continued.
He went on to site former Sen. Russ Feingold (D-WI) who similarly disagreed with efforts to amend free speech rights. Adding that he agreed with Kennedy and Feingold, Cruz asked why liberals are no longer defending the Bill of Rights.
"This amendment, if adopted, would allow Congress to ban books and to ban movies," he concluded. "Mr. Chairman, Ray Bradbury would be astonished, because we are seeing Fahrenheit 451.
Watch the clip below, via C-SPAN:
[Image via screengrab]
— —
>> Follow Noah Rothman (@NoahCRothman) on Twitter
Have a tip we should know? tips@mediaite.com