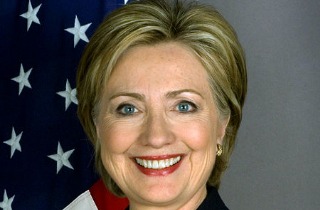 When we've heard about Hillary Clinton lately — and we've been hearing a lot given she's an undecided candidate in an election 888 days away — the focus has primarily been on Benghazi, Monica, her age and her health.
But now for the first time in a long time, Hillary is being asked about an issue as it unfolds in real time: Bowe Bergdahl, the undisputed hot issue of the week in cable news. Undisputed because it's one of those rare stories where art somewhat-imitates life. "Homeland season three" is the way Dana Perino described it on Fox; an American POW held by terrorists for years being reunited with his family (the similarities end there, as Sgt. Nicholas Brody was found after a bombing of a terrorist hideout…no 5-to-1 prisoner swap was executed.
But for producers from MSNBC to CNN to Fox, it's like fishing with dynamite from a compelling content perspective. Simply line up the legal, political and military analysts just waiting to be called and let the passionate debate ride cruise control from there. Political: Was the President right in making this deal? Legal: Is it even legal? Military: Will this dream team of high-ranking Taliban members return to the battlefield and put American lives at risk?
And now the Hillary factor can be added to the political part of the equation, as the former Secretary of State was asked Monday what she thought of the whole Bergdahl situation at an event near Denver…to which she replied thusly:
"You don't want to see these five prisoners go back to combat," Mrs. Clinton said. "There's a lot that you don't want to have happen. On the other hand you also don't want an American citizen, if you can avoid it, especially a solider, to die in captivity. I think we have a long way to go before we really know how this is going to play out.
She also added: "This young man, whatever the circumstances, was an American citizen—is an American citizen—was serving in our military. The idea that you really care for your own citizens and particularly those in uniform, I think is a very noble one."
In other words, in lawyerly fashion, she supports it but understands the risks. So what if it all plays out negatively? Will Americans—servicemen, citizens, contractors—begin to be kidnapped in earnest abroad in exchange for other prisoners at Gitmo? What if any of the five Taliban released are tied to future attacks, particularly before November of 2016? The President himself admitted this absolutely could happen. More likely than not, Clinton will have to defend this policy in the 2016 campaign—which regardless of the current status around her candidacy—has already begun. Sound bites are being compiled by future campaign strategists, and rest assured defending Bergdahl release—and that's the way her comments are being portrayed in the media if headlines from Politico to NBC News to the Washington Post are any indication—will be tapped the moment any of the scenarios above come to fruition.
Hillary's approval numbers are solid right now (50-42 favorability is the latest composite average). But so were those of other major public figures at this stage before an election: Also according to Gallup, Al Gore sat at 56-39 favorability/unfavorability before he announced his candidacy in 1999; Bob Dole was at 57-35 before the '96 campaign kicked in early in 1996. And John McCain couldn't have asked for better numbers upon announcing in 2007 (54-27 favorability). So while Clinton's numbers are enviable (particularly when compared to potential Democratic primary and GOP general election candidates), they are also already falling, as her unfavorable number have jumped from low 30s to low 40s in the last two months. And if the past is any indication, her favorability numbers will continue to drop once she's forced to address key issues as the book tour TV interviews commence (ABC on June 9, followed by Fox News on June 17). Things will get particularly dicey when pressed on Obamacare, as she can't say—like she did with the Iraq War vote—that she's suddenly not for universal health care (given she chaired a National Task Force on it back in 1993-1994).
Back to the numbers, Hillary's favorability went from 67 percent before her 2000 Senate campaign to 45 percent by the end of the race. Then again, she still won that election over a hapless Rick Lazio by 12 points. Then-then again, Democrats out-register Republicans in New York State by a 59-33 margin. Same thing happened leading up to her 2008 Presidential campaign: mid-50s favorability to start, dipping to 48-48 once then-candidate-Obama began to gain steam in early 2008 by taking the Iowa Democratic Caucus in January and never looking back.
The next two weeks will be a great indication of what kind of Hillary we'll be seeing (if she runs) over the next 888 days. And given the flexibility of media and all the additional options when it comes to political coverage both on TV and the web, we'll be seeing her face more than any other in American campaign history.
Will she go on the offensive with Greta Van Susteren and Bret Baier on Fox in regards to Benghazi? You bet.
Will she play more the role of wise, above-it-all stateswoman with Diane Sawyer and Robin Roberts on ABC? Absolutely.
Will she add more fuel to the fire on issues like negotiating with terrorists, Obamacare, the national debt, minimum wage, immigration, and taxation? And will her poll numbers drop as a result regardless of what she says?
Rhetorical questions…
As the old saying goes, "The less you talk, the more you're listened to."
If past is prologue–at least in the case of Hillary Clinton–the idea of her appears to be more appealing that the actual person.
— —
>> Follow Joe Concha on Twitter (@ConchaMedia)
Have a tip we should know? [email protected]