'That's Not What He Said!': Don Lemon Calls Out Trump Supporter's Defense Of Gingrich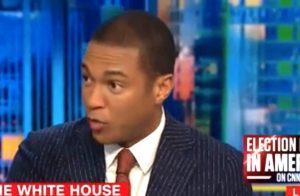 During a panel discussion on CNN Tonight, host Don Lemon felt it necessary to correct CNN political commentator and Donald Trump supporter Kayleigh McEnany over her defense of Newt Gingrich.
After playing the now infamous clip of Gingrich and Fox News' Megyn Kelly going at it over Newt's claim that Kelly is "fascinated with sex," Lemon asked the panel to weigh in. McEnany went first and stated that what Gingrich was really talking about was the mainstream media.
As she continued to go on about how we can't talk about President Obama and how we can only discuss sex in the media, Lemon interrupted, letting her know that Gingrich never said any of that. Instead, the former Speaker of the House specifically mentioned Megyn Kelly and her show during his tirade, not the media at large.
McEnany responded that she wasn't "spinning it" but that Newt was talking about Kelly's show as a specific case of the media, leading Lemon to exclaim, "That's not what he said. That's what you're saying."
Lemon again told the paid Trump defender she was spinning, causing her to say she merely interpreted the whole thing differently as she took Gingrich as attacking the media as a whole. Lemon could then be heard saying "you're the only person in the world" who did.
Eventually, the conversation shifted to McEnany claiming she wasn't a member of the media, despite multiple members of the panel telling her she was as she was getting paid by CNN to commentate.
Watch the clip above, via CNN.
[image via screengrab]
–
Follow Justin Baragona on Twitter: @justinbaragona
Have a tip we should know? tips@mediaite.com