The View's Nicolle Wallace: 'If You're Black in Ferguson, You Should Be Very Scared'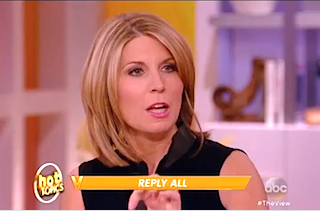 This week, the Department of Justice released a scathing report on the Ferguson Police Department, finding not only a preponderance of racially-charged emails but also systematic discrimination against African-Americans, who received more than 90% of the city's arrests, citations and jaywalking tickets, despite making up just 67% of the population.
When the topic came up on The View Thursday morning, it was not only liberal hosts like Whoopi Goldberg speaking out against them, but also conservative commentator Nicolle Wallace, who strongly denounced the culture of that Missouri city.
"Because officers are people, you're going to get boneheads, and they're going to slip through the cracks," Goldberg said. "There are amazing cops out there. But you know what? Now that we know that this actually does exist, that it's not just playing the race card, that this actually does exist, maybe we'll be a little more careful about who gets the damn job."
"What's startling is how programmatic and systematic it was. This was financial," Wallace said, taking things even further. "They were funding city government functions on the backs of lower-income African-American residents of the town. They created, in effect, a debtor's prison," she added, citing the damning statistics.
"I don't ever worry about getting a ticket for jaywalking," Wallace said. "But if you're black in Ferguson, you should be very scared, terrified!"
Goldberg predicted we would be dealing with situations like this one "for the rest of our lives" because "people learn racism." She said, "It's not something you're born with. So as long as people are teaching it, it's going to be there."
Watch video below, via ABC:
[Photo via screengrab]
— —
>> Follow Matt Wilstein (@TheMattWilstein) on Twitter
Have a tip we should know? tips@mediaite.com