Touré On 'Proper Negro Fatigue': No Matter How Good I Am At It, 'I Still Know I May End Up Dead'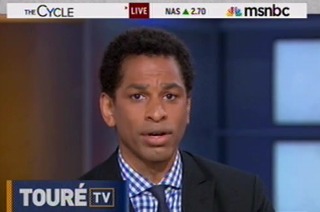 During a monologue on Monday regarding the racial elements of the controversial "stop-and-frisk" policing practices and the trail of George Zimmerman, MSNBC host Touré said that he is tiring of feeling like he and other African-Americans have to maintain a pattern of behavior that whites do not. He called it "proper negro fatigue" and added that, no matter how good he is at presenting himself as a non-threat, he still feels like he "may end up dead."

"Once, somebody asked me when would I stop talking so much about injustice giant black men," Touré began. "I said, 'I will when this country stops the tsunami of injustice against black men.'"
He referenced the two court cases with a racial element to them: the Zimmerman trial and a lawsuit against the government alleging racial profiling in New York City's "stop-and-frisk" program.
Touré confessed that his parents instilled in him the idea that he had to maintain a demeanor that was as nonthreatening as possible in order to avoid being inappropriately singled out by authorities.
RELATED: MSNBC's Touré: 'Open Borders' Will Reduce 'Muslim Poverty That's Threatening Our Security'
"Society is afraid of you and that's your problem," Touré said of the double standard facing blacks in the United States.
"All that can lead to what some have called, 'proper negro fatigue,'" Touré added. "Because I have to go around mollifying everyone around me and letting them know I won't rob them."
"And trust me, it's tiring," he concluded. "Because, no matter how good I am at that, I still know I may end up dead."
Watch the clip below via MSNBC:
> >Follow Noah Rothman (@NoahCRothman) on Twitter
Have a tip we should know? tips@mediaite.com