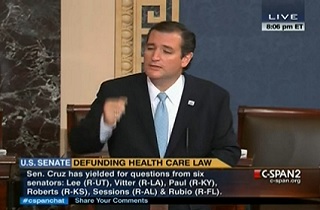 In one of what are sure to be many surreal moments from Sen. Ted Cruz's (R-TX) quasi-filibuster of a bill that he demanded House Republicans pass, the distinguished gentleman from Whoville killed several minutes Tuesday night reading Dr. Seuss' Green Eggs and Ham into the Congressional record. Cruz introduced his recitation as a dedication to his daughters, but it's tough not to also view the hated viridescent foodstuffs as an allegory for Cruz's crusade to look like he's trying to defund Obamacare.
In fact, what Sen. Cruz is doing could be considered an allegory of a filibuster, as opposed to an actual filibuster, because Senate rules limit the amount of time he can hold the floor. Cruz is trying to draw attention to the continuing budget resolution that the House Republicans passed, which ties funding of the government to the defunding of Obamacare. Once Cruz is finished, the Senate can close debate on the bill, and amend it to restore funding for Obamacare.
For parents who have always wanted a version of a Dr. Seuss book brought to life without Theodor Geisel's lively illustrations, but with the shimmering visual feast that is C-Span 2, here's Sen. Ted Cruz reading Green Eggs and Ham. For the allegory-minded, the "Sam I am" character clearly evokes Uncle Sam, especially given conservatives' recent, explicit use of the icon in anti-Obamacare ads. The green eggs and ham are obviously a stand-in for Obamacare. What's interesting is how the story ends:
"Thank you, thank you, Sam I am," the story ends, with America thanking the government for something it was sure it wasn't going to like. This may sound like some liberal fantasy interpretation of Cruz's selection, but in fact, Cruz foreshadowed this himself, in a July interview with Sean Hannity. Right before he bragged that he isn't "housetrained," Cruz laid out the Green Eggs and Ham scenario, telling Hannity "If we don't do it (defund Obacare) now, in all likelihood, Obamacare will never, ever be repealed. Why is that? Because on January 1, the exchanges kick in, the subsidies kick in," and added that "their plan is to get the American people addicted to the sugar, addicted to the subsidies, and once that happens, in all likelihood, it never gets…"
"It's over," Hannity cut in, "it never gets repealed."
Whatever you think of Cruz's description of Obamacare as "the sugar," his message to Hannity is identical to that of Green Eggs and Ham. Tuesday night might mark the first time Seuss' classic has ever been read as a horror story.
Have a tip we should know? tips@mediaite.com