Not Nazis: What Sen. Ted Cruz Thinks Was 'As Intimidating' a Foe as Obamacare May Surprise You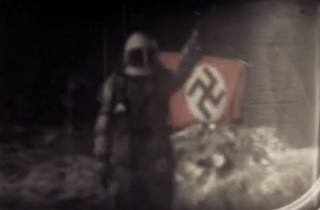 The more things change, the more they stay the same, and Sen. Ted Cruz's (R-TX) pseudo-filibuster is only a partial exception.
By now, everyone knows that a Republican Senator made a Nazi reference on the floor of the U.S. Senate yesterday (a phenomenon that Hill staffers refer to as "Tuesday"), but there was also a surprising part to Senator Cruz's meander through the horrors of Hitler's Germany. His comparison of opponents of his plan to defund Obamacare with Nazi appeasers was part of a litany of historical foes that included the Confederacy, the British, and the Soviet Union, but there was only one foe equal to the Affordable Care Act.
Mere hours into Sen. Ted Cruz's (R-TX) quasi-filibuster of a bill that he demanded House Republicans pass, the freshman Texanadian went straight to the Nazi well, as part of a traipse through history that also included the American Revolution and the Civil War. "If you go to the 1940s," he said, "Nazi Germany. Look, we saw in Britain, Neville Chamberlain, who told the British people, 'Accept the Nazis. Yes, they'll dominate the continent of Europe, but that's not our problem. Let's appease them. Why? Because it can't be done. We can't possibly stand against them.'"
In this allegory, if you're keeping score at home, the Nazis are Obamacare. Unlike Sen. Rand Paul, Cruz didn't try to disavow the comparison as he was making it.
"I suspect those same pundits who say it can't be done, if it had been in the 1940s we would have been listening to them," he continued. "Then they would have made television. They would have gotten beyond carrier pigeons and beyond letters and they would have been on TV and they would have been saying, 'You cannot defeat the Germans.'"
He went on to name other challenges, like the Cold War and the moon landing, then skipped all the way to Obamacare. "By any measure, Obamacare is a far less intimidating foe than those that I have discussed," Cruz generously allowed, "with the possible exception of the moon. The moon might be as intimidating as Obamacare."
There you have it, folks. Obamacare is like Nazis, only less intimidating, like the moon. Good thing Cruz is apparently unaware of Space Nazis.
[photo via screengrab]
Have a tip we should know? tips@mediaite.com