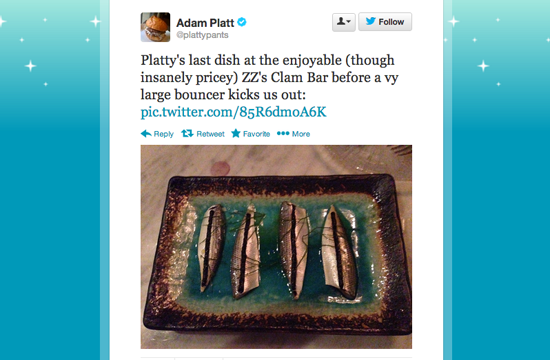 All Adam Platt wanted to do was eat some cured Japanese sardines and review the new ZZ's Clam Bar. But that never happened, because a large bouncer approached the New York Magazine critic two hours after he and his dining companion began their meal, and booted them out with a "I'm sorry, but you guys are done."
In an interview with Grub Street, Platt suspected that he'd been spotted and Not Liked By The Owners, a certain Mario Carbone, Jeff Zalaznick, and Rich Torrisi, after he gave their restaurant Carbone a not-so-stellar review. But there's a crucial difference between disagreeing with a professional-but-subjective assessment of one's restaurant, and, well, the following:
My guest works with chefs and restaurateurs around the city, and has never really been treated this way. He says, "What are you talking about? We haven't done anything." He starts to get red in the face. I just say, "They're kicking us out. We should go."

And they didn't let you pay the bill, right?
I said I'd like to pay my bill. The bouncer says, "No, it's on the owner." I say, "Really I should pay the bill." I say it three times. He says, "No, it's on us."

He was very polite about it. He had that professional bouncer tone: Nonconfrontational, very insistent, and the message does not change.
The irony was that he actually liked ZZ Clam, and had one recommendation out of many he could have made, but didn't: "Three pieces for $30, which frankly were almost worth it they were so delicious."
Your loss, Torrisi dudes. Your loss.
RELATED:
Four Ex-New York Times Critics (and Pete Wells) Dish Their Disguises and More
Pete Wells Feels Really Under-Appreciated At The Moment, Guys
In Twitter Fallout Over Pete Wells' Downgraded Daniel Review, It's Industry Vs. Everyone Else
Have a tip we should know? tips@mediaite.com