Cory Booker's Moment of Triumph: The Best & Worst of Your Newest U.S. Senator
Cory Booker's victory in last night's special election for New Jersey's open U.S. Senate seat was preordained even before state Republican voters gifted him the election by nominating Steve Lonegan, a cartoonish tea party gasbag with phenomenally poor taste in advisers, as his opponent. (Maybe that's too harsh to Lonegan's electability: he was able to make the race closer than originally expected, but we'll never know how a less-crazy candidate would have fared). So it makes sense that the mood at Booker's victory party last night at the New Jersey Performing Arts Center in Newark, the city he's run for the past seven years, was happy but subdued.
Sure, there was a "Go team go!" here and a "This is a moment!" (while posing for pictures in front of Booker's campaign bus) there as supporters filed out of the venue, but overall, their candidate merely did what was expected of him. Take the group of supporters who watched Booker's speech on a TV screen outside the building's main performance hall: while they clapped at a couple applause lines and at the end, the atmosphere was sufficiently unenthused that one man passing through the crowd just after the speech likened the atmosphere to "a funeral or something."
Winning's nice and all, but that was the easy part, the reaction seemed to say. Now we have work to do. You couldn't blame anyone in attendance for thinking that – not least because Booker said "We have work to do" himself during his speech. And that speech helped demonstrate why Booker's gotten this far: the man, just like the one he'll be compared to even more now, can undeniably work a room from behind the podium.
This was most clear when Booker paid tribute to his father, who died last week: he effortlessly tied intensely personal stories from his upbringing and from his parents' struggles in Civil-Right-Movement-era America into that work he has to do in Washington. "All of us drink deeply from wells of freedom…that we did not dig," he intoned in one of the night's biggest applause lines. "We must pay it forward." And it was clear when he said "God bless New Jersey" at the end of his speech, in a way that could have melted just about any Garden Stater's heart.
But the night also provided plenty of reminders why so many people can't stand this guy. Take a word Booker uttered several times last night: cynicism. Booker just hates cynicism (as well as the "frustrating negativity" he also decried last night). And what's the worst kind of cynicism to Cory Booker? Not taking some of his more dubious brand-building personal stories at face value.
Indeed, for a guy who despises cynicism so much, he sure has an easy time inspiring it. When he talked last night about the need for "innovation" to propel the "world's greatest economy," it was hard not to think of his attempt at "innovation" – a little-used, uninspired tech startup that only existed because Booker has a lot of rich friends who gave him money to start it. And who could ever be cynical looking at the list of items for sale at the party last night?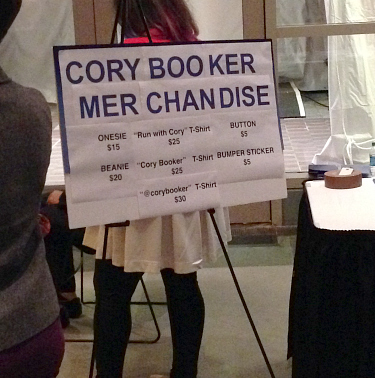 Thirty dollars. For a shirt with a Twitter handle on it. Note that this was the most expensive item for sale: $5 more than a plain ol' "Cory Booker" shirt. Rarely do you see it laid out in such explicit, mathematical terms: Booker the #brand, 20 percent more valuable than Booker the person. It's almost heartwarming, Cory Booker's undying devotion to the mythology of himself. Almost.
All told, though, it wasn't a bad night to encourage a little more faith in one's elected representatives: as Booker spoke, his future colleagues were finally making a deal to save Congress from itself, at least for a few more months. But the most heartening display of bipartisanship might have come on the phone lines between Booker and Lonegan once it was clear the former would win. Early in his speech, Booker mentioned Lonegan called him to offer his congratulations and best wishes, and he thanked his vanquished opponent for his "gracious words."
Normally, this wouldn't be a big deal – after all, it's common election practice for the participants to trade a few no-hard-feelings words after it's all done. But this is Steve Lonegan. The guy who said this. And all of this. It's conceivable that, if his words were as gracious as Booker claimed, they were the first gracious words he'd ever spoken.
On a night that in many ways was exactly as Jersey as you'd expect (Sinatra played when Lonegan finished his concession speech, while both Bon Jovi and Springsteen blared at Booker's event), the bloviating, walking negative stereotype not only lost, but did it with some dignity intact. In a race between two deeply flawed candidates, it was something worth celebrating.
Photo via NBC
— —
>> Follow Glenn Davis (@glennrd) on Twitter
Have a tip we should know? tips@mediaite.com