Brian Malarkey Reveals He Was Fired from The Taste Because He Lacked 'Firepower'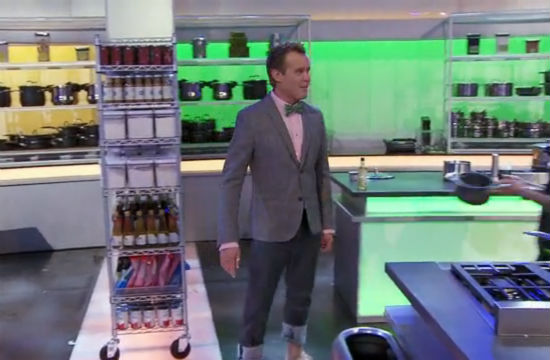 Poor Brian Malarkey. What makes his unceremonious sacking from the judging panel of The Taste so especially painful is the fact that he actually won the first season with Khristianne Uy. Which makes all of the otherwise perfectly reasonable excuses production gave for firing him even more awkward.
After a season of questionable flood pant decisions, a fundamental inability to gain respect from the competitors, and an awfully forced "rivalry" between himself and Ludo Lefebvre, Brian was ousted from his spot on the judging panel alongside co-executive producers Nigella Lawson and Anthony Bourdain.
In an interview with The Hollywood Reporter, Brian opened up about his harsh shit-canning, claiming that all has since been smoothed over:
THR: So why do you think you weren't asked back at The Taste?

BM: No one really said why. It was depressing for a little while but I had a great time and I have other opportunities coming through. On the show, I was loud, I got into it with Ludo [Lefebvre, the fourth mentor], I dressed silly. My restaurants are called Herringbone and Searsucker because we like to laugh and have a good time. I wore a green jacket and bow tie. Some people loved me, some people hated me, but at the end of the day, The Taste wanted to get a bigger-name chef. I just found out who it is and I'm flattered who it is… I respect him immensely.

THR: Did you leave on a good note with the producers?

BM: The whole team came down for dinner at the restaurant and they were very sympathetic. They said the show needed some firepower. For a show like that, you're not going to replace Bourdain or Nigella because they're executive producers. So I got the boot but I licked my wounds and I'm happy where I'm at as I have some new TV projects happening. And I'll always be happy that I got an hour show on a primetime network.

THR: What was the experience like working with the other chefs? Any drama we didn't see on the show?

BM: Maybe I took it too seriously. I mean, I was in it to win it. Ludo was a fantastic competitor. The fact I got to kick it with the other hosts was great. Thankfully I wasn't as rebellious as Bourdain.
RELATED:
Bourdain And Lawson To Return For Season Two Of The Taste
Andrew Zimmern On Brian Malarkey: 'I Am Always Suspicious Of Men Who Botox'
Anthony Bourdain Finally Gives A Candid Post-Mortem On The Taste
Have a tip we should know? tips@mediaite.com