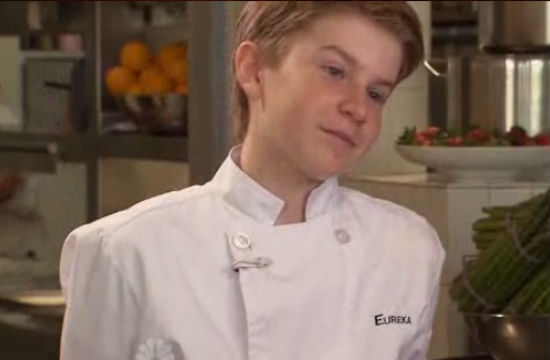 With the brouhaha bubbling over MasterChef Junior's green light from Fox, 14-year-old prodigy chef Flynn McGarry is insisting child chef stars are here to stay. In a recent interview with ABC News on his upcoming $160-a-head pop-up dinner at BierBeisl in Beverly Hills, he bit back at food bloggers claiming teen chefs would flicker out in 2012.
"Someone wrote that 2012 was the year the teenage chef went away," he told ABC. "Well, I am here to tell them that that isn't true and I am just getting started."
While Flynn hosts a monthly supper club at his house for $150 per person (recently pared down to a maximum of 14 guests), he'll actually be turning a profit off his pop-up at BierBeisl.
"What people don't realize is it is $160 including tax and tip for 12 courses…For all of the events at my house, we haven't made money, but with this event we will make a little money. However, it all goes to new dishes. It is not a moneymaking thing. We lowered the prices and we are doing more food and more expensive ingredients. We are thinking of it as a fun night. That's how all chefs think about it — that we are getting together to enjoy good food, do what we love and have fun."
And how, exactly, would he know what all great chefs are thinking about? Oh, we don't know. Maybe from that stage he did at Eleven Madison Park under Daniel Humm?
"It was so good to see a chef who rolls with the punches and is so relaxed," said Flynn of his former mentor. "When you have a restaurant of that caliber, it can be stressful and he is always smiling. It was a great opportunity to learn from him."
Okay, but just because this adorable kid is mature and composed doesn't mean we have to start supporting the Gordon Ramsay baby shitshow, right?
[ABC News]
Have a tip we should know? tips@mediaite.com