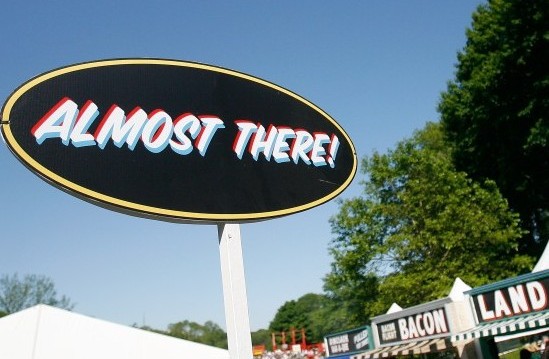 On Sunday, everything went smoothly at The Great Googa Mooga Food And Music Festival, held by Superfly Productions. Lines were short, beer flowed freely from keg spouts, and the rolling green of Prospect Park was filled with happy hipsters juggling multiple eco-friendly plates of food, jamming out to Hall & Oates.
That was definitely not the case on Saturday.
"I can't believe this clusterfuck bullshit," one woman read aloud from her friend's text warning her to stay away.
"Totally not worth it," another grumbled.
"This was a huge fucking waste of time," said a third storming from the exit, one of many complaints I heard during a Saturday afternoon mass exodus from the gates of Googa Mooga towards various bars and restaurants in the area.
Twitter exploded with complaints, blog posts flew up, and angry Yelpers downgraded the event to one star over Googa's perceived poor organization — both in the Extra Mooga area (called out in this Gothamist article as a "shitshow") and the free festival. (Eater has a great compilation of the best tweets from the day, but our favorite has to be from Seventeen Magazine editor Kim Tranell: "Googa Mooga = The Hunger Games. I'd stab someone for something edible right now.")
Key among the complaints was the system to get beverages, which Googa Mooga quickly abolished  on Sunday. Lines stretched for hundreds of feet to each of the two I.D. check tents, staffed by two people each, though unannounced volunteers stood to the side with sheets of 21+ bracelets. From there, it was another long, long wait for non-refundable Googa Moula (originally a card, eventually carnival-style tickets when the machine broke down) which could only be used to purchase beverages. My friend reported that he'd tried to game the system and ask someone at the head of the line to purchase some tickets for him. According to him, the man turned to him and said, emptily, "I don't know what I'm doing in this line anymore."
If you were lucky enough to score tickets, however, lines for the beverage tents were hundreds of people deep, some stretching clear across the expanses of grass to the main stage. (By Sunday, the ticket system was eliminated and everyone accepted good ol' cash.)
Add the spotty cellular reception, toilet paper shortages (Ottavia Bourdain tweeted that she had to pee in a cup) security guards who redirected lost Googa-goers in circles around the park, dehydrated New Yorkers, and even longer lines for food — which, in some instances, had run out — to the mix and the anger grew potent on the internet and in real life. Rumors spread quickly of two women getting into a brawl over fried chicken.
"The point of it, I thought, was that I could get to try all of these things that I could go to many different places for," said Kelly Taylor of Greenpoint, splitting an enormous pitcher of beer with her friends on the patio of Bar Sepia after they'd abandoned Googa. "But why would I wait an hour for each of them? Why can't I just go to their restaurants and sit down and enjoy it?…If I have to wait two hours for a beer, and an hour for a foie gras donut at Do Or Dine, I'd rather just go to Do Or Dine, wait thirty minutes for a table, and have a beer and a foie gras donut."
But the food, if you could get it and if it didn't run out by 3PM, was delicious, and this reporter enjoyed one decadent hour tearing apart a broiled crustacean from Luke's Lobsters while lying on the grass in the sun and listening to the Preservation Hall Jazz Band play.
It's not the first time Superfly Productions has had trouble launching a major festival. The first time they held the now-legendary Bonnaroo Festival in Tennessee, the wait for parking took a full 12 hours. Similarly, the facilities on Saturday seemed ill-equipped to handle the 40,000 people they anticipated coming to the festival.
Nevertheless, Superfly is begging new New Yorkers to give them a second chance, and points to Sunday's success as an indicator that yes, they're listening, and yes, things will be better next time around.
"Superfly will be taking a focused look at the event in days and months to follow and is listening intently to all feedback," they wrote in a press release. "They will take every measure to improve the festival…With any first year event, there are growing pains and Superfly is grateful to attendees for being patient in the process."
Lucky for them, New Yorkers seem to like the concept of eating all their favorite foods in one location more than they hate the indignity of Waiting In Line For Beverages. "It could have been more organized," shrugged Shanetta Dorsey of Crown Heights the day after. "But overall it was good."
"It's a good concept," admitted Taylor, who said she may go again next year if Superfly gets its act together. "But if it was all convenient and in one place… New Yorkers are impatient, you know?"
Have a tip we should know? tips@mediaite.com