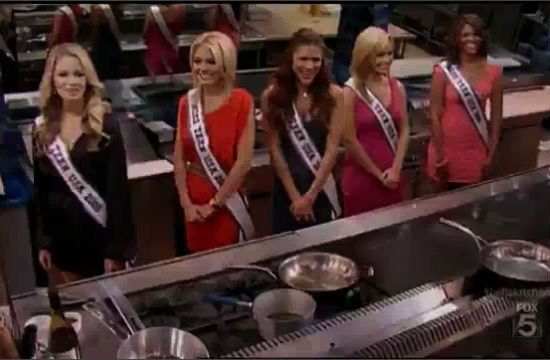 On last night's Hell's Kitchen, the final five cheftestants watched Gordon Ramsay execute a perfect plate of chicken parm in preparation for Hell's Kitchen Italian Night later that evening, all under the assumption that they'd probably have to recreate the dish in a reward challenge. They were, of course, half-correct.
Their challenge was to teach Gordon's chicken parm to a gaggle of Miss Teen USA alums. (No, that one Miss Teen South Carolina wasn't there. Probably because she couldn't locate Los Angeles on a map. Or maybe she's among the US Americans who don't have maps. Who knows?) Chefs weren't allowed to touch any ingredients or cooking utensils, and could only guide the girls with their words (oh boy), but, surprisingly, Gordon liked every plate. Admittedly, it's kind of hard to make chicken parm taste bad, but let's let the beauty queens have something, huh?
While the challenge went pretty smoothly, it did produce some killer one-liners as a result of the girls having to break down their own chickens for the breast meat and prepare their own mis en place.
Beauty queens on chopping: "Mince the onion? Like, isn't there like a machine you can use for that?" Silly Gordon, why didn't you think of stocking your kitchen with Slap Chops? So much more efficient!

Beauty queens on gathering cooking utensils: "I need to get my thongs." Tongs, dear. Tongs.
Beauty queens whining in the kitchen: "Do you know what it's like to cook in heels?" Do you know what it's like to stand for 80 hours a week?
Check out the clip below.
Have a tip we should know? tips@mediaite.com