We've arrived at part 1 of the two-part season finale of Top Chef! Of course, we're back with another drinking game. Have at it.
Note: Please drink responsibly! Switch to water if you need to.

Drink 1 Sip:
Any time a chef compares cooking with magic RE: David Copperfield
When the Last Chance Kitchen winner tries to laugh off his tiny cot next to Marjorie's king-size bed.
Any time a chef says "this is the finals." We got it, chefs. We've been here all season.
Any time a chef mentions that ____ is in his/her area of expertise, because he or she does it at the restaurant.
Any time a chef mentions that people LOVE this dish at the restaurant.
When a chef says they've never made ____ before.
When a judge says a dish is under-seasoned.
When a judge says something is undercooked.
When a judge says something is overcooked.
When a judge just "doesn't get" the dish.
When one of the chefs is "there to win, not to make friends."
When a judge is disappointed that people are still making bad food this late in the game.
When a chef says that it's an honor just to have made it this far. Nah, winning is better.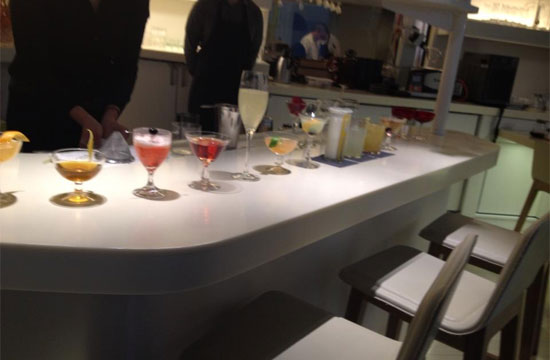 Drink 2 Sips:
When Padma makes a terrible joke.
Any time Tom comes up with a pun based on either the name of the dish or an aspect of the challenge
When a chef or judge says "someone has to go home." Thank you for reminding us!
If Padma is drunker than you and you need to catch up.
When the winner of Last Chance Kitchen is revealed (Please let it be Amar)
When Marjorie says she LOVES Isaac, but his food just isn't refined enough, and you need to be more refined to win.
Take A Shot:
When whoever goes home says "this won't be the last you see of me."
Chug:
Anytime someone says, "Vegas, Baby!"
Anytime someone says, "What Happens in Vegas, Stays in Vegas"
Anytime someone says something to the tune of, "This is Vegas! Anything can happen."
Thanks for playing! We'll be back tomorrow with a recap in case you can't remember what happened. Cheers!
If you need to catch up before tonight:
Top Chef Recap: Where It All Started
Top Chef Season 13 Previews: The Final Three
Have a tip we should know? tips@mediaite.com