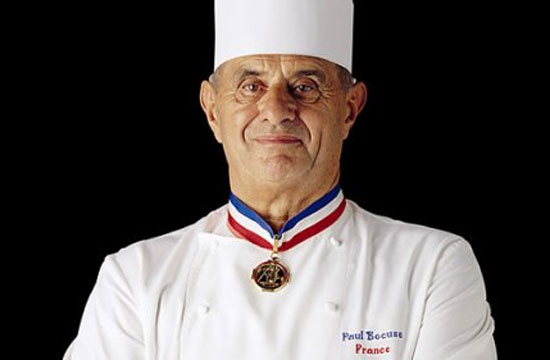 Paul Bocuse, living legend, has the love and affection of the entire culinary community. Hence, right before the Bocuse d'Or (which he started, by the way, he's that cool), hundreds of the world's best chefs will gather in Lyon to celebrate his legacy with a tribute dinner at the Sirha World Cuisine Summit on January 28th. Oh, and by the way, it's only for chefs. The world only knows about it because they sent out a press release announcing it.
Food Republic snagged a copy of the press release, which revealed that famous chefs like Pierre Gagnaire, Thierry Marx, Guy Savoy, and Pierre Troigros will be attending, among a long, long paragraph of others (and a few dozen unnamed more). Moreover, Alain Ducasse is running the dinner.
Oh, and guess who's cooking? Thomas Keller, Mathias Dahlgren, Matthieu Viannay, and Emmanuel Renaut. Guess who can't eat any of their phenomenal cuisine? Probably nearly everyone ever.
Full press release below:
To celebrate Sirha's 30th anniversary, Michelin-starred chefs from all over the world have decided to pay tribute to a living legend of French gastronomy: Paul Bocuse. Many chefs have accepted Olivier Ginon's invitation to Lyon City Hall. They will form an unprecedented gathering in a prestigious yet friendly atmosphere, looking forward to tomorrow's gastronomy.

Massimiliano Alajmo, Yannick Alleno, Enrico Cerea, Christian Constant, Enrico Crippa, Eric Frechon, Pierre Gagnaire, Peter Goossens, Hiroyuki Hiramatsu, Thomas Keller, Régis and Jacques Marcon, Thierry Marx, Philippe Mille, Bertrand and Mathieu Pacaud, Gérald Passedat, Anne-Sophie Pic, Emmanuel Renaut, Nadia Santini, Guy Savoy, Geir Skeie, Pierre Troigros, and many others. In total, more than 100 chefs from all over the world, amounting to more than 200 "stars" will be brought together for this exceptional dinner party.

The "Dream Team" of Cuisine

Alain Ducasse, who holds three Michelin stars at each of his restaurants in Paris, Monaco and London, will be at the helm of this outstanding event. Michel Roth, chef at the Ritz in Paris and at the President Wilson hotel in Geneva (Switzerland), will be in charge of the organisation and decoration of the event.

Aperitif: Mathias Dahlgren, 2** (two Michelin stars) Swedish chef, and Matthieu Viannay, MOF (best French artisan) in 2004 and 2** chef at the famous La Mère Brazier restaurant in Lyon, will be in charge of awakening the chefs' appetite by creating delicious appetizers.

Starters: Recently three-starred chef, MOF 2004 and President of the jury for the French selection round for the Bocuse d'Or 2013 competition, Emmanuel Renaut, will prepare the starters.

1st dish: American chef Thomas Keller, who owns two 3*** restaurants, will prepare the first dish, which will be both delicious and healthy.

2nd dish and dessert: For this feast, Alain Ducasse will then unveil the main dish and the dessert, whose motto will be: "authentic products for healthy and enjoyable eating".
Have a tip we should know? tips@mediaite.com