President Obama Urges Congress To Pass Sandy Relief Now, Hits At Republican 'Refusal' To Act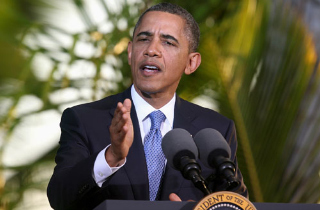 In light of the House of Representative's late-night shelving of a vote to pass an aid package for the communities affected by Hurricane Sandy, President Obama released a statement while vacationing in Hawaii, slamming House Republicans for "refusing" to act, and pleading with the House to get it done today.
"It has only been two months since Hurricane Sandy devastated communities across New York, New Jersey, and Connecticut as well as other eastern states," began the brief statement. "Our citizens are still trying to put their lives back together. Our states are still trying to rebuild vital infrastructure. And so, last month, working closely with the Governors of the affected states, I sent Congress an urgent request to support their efforts to rebuild and recover."
He continued: "The Senate passed this request with bipartisan support. But the House of Representatives has refused to act, even as there are families and communities who still need our help to rebuild in the months and years ahead, and who also still need immediate support with the bulk of winter still in front of us."
The president then pleaded: "When tragedy strikes, Americans come together to support those in need. I urge Republicans in the House of Representatives to do the same, bring this important request to a vote today, and pass it without delay for our fellow Americans."
Earlier this morning, Rep. Peter King (R-NY) attacked his own party for not voting on the relief bill, taking to both CNN and Fox News to express his outrage. Fellow Republican Darrell Issa (R-CA) said that the bill did not come to vote because several Democratic congressmen "packed it with pork," such as $150 million in aid to Alaskan fisheries.
— —
>> Follow Andrew Kirell (@AndrewKirell) on Twitter
Have a tip we should know? tips@mediaite.com