NY And NJ Governors Blast House: Tradition Of Helping Americans 'Abandoned' For Washington 'Games'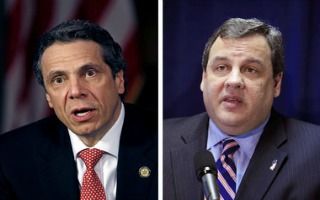 New York Gov. Andrew Cuomo and New Jersey Gov. Chris Christie have released a joint statement in which they strongly admonish the Republican-controlled House for failing to bring a proposed aid package to states hit by Superstorm Sandy to the floor for a vote. The governors expressed dismay that the House would chose to "play games" rather than help American families in dire need of support.

RELATED: NY Times Buries The Lede: Anderson Cooper's Ratings Surge At 8PM
In their joint statement, released minutes after the House failed to bring a bill passed by the Senate to aid victims of the October hurricane, the governors express unreserved frustration with members of the House who "abandoned" the tradition of Washington helping Americans in need of disaster relief.
With all that New York and New Jersey and our millions of residents and small businesses have suffered and endured, this continued inaction and indifference by the House of Representatives is inexcusable. It has now been 66 days since Hurricane Sandy hit and 27 days since President Obama put forth a responsible aid proposal that passed with a bipartisan vote in the Senate while the House has failed to even bring it to the floor. This failure to come to the aid of Americans following a severe and devastating natural disaster is unprecedented. The fact that days continue to go by while people suffer, families are out of their homes, and men and women remain jobless and struggling during these harsh winter months is a dereliction of duty. When American citizens are in need we come to their aid. That tradition was abandoned in the House last night.
"The people of our states can no long afford to wait while politicians in Washington play games," the statement concludes.
> >Follow Noah Rothman (@Noah_C_Rothman) on Twitter
Have a tip we should know? tips@mediaite.com