Pete Wells Pits Salvation Taco Against A Bronx Hole-In-The-Wall, Guess Who Wins?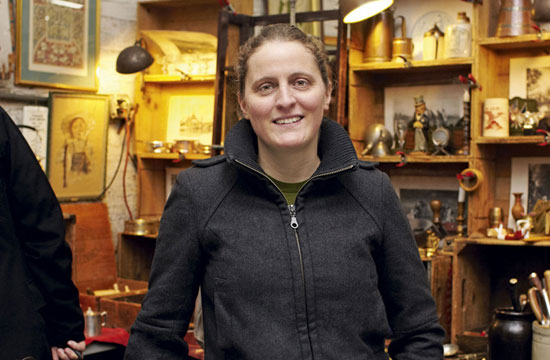 Pete Wells aimed his newly sharpened critical daggers squarely in April Bloomfield's direction in his most recent review of Salvation Taco. The fourth New York establishment for the Mother of the English Gastro-pub takes a risky turn away from her comfort zone, and, to properly assess her taco prowess, Wells juxtaposes it against a Mexican joint in the Bronx with a neon sign in front he describes as being "a shade of pink that looks like lipstick at the end of a long night."
But, whorish decor wins out! Here are some of the nastier burns Pete administers upon Salvation Taco's porky flesh.
On the "star attraction":
But when a restaurant has two words in its name and one of them is taco, you might think the star attraction will be a fat bundle of something hot and tasty folded inside a warm tortilla with a sauce that adds intrigue and excitement. That describes almost none of the tacos I ate at this jammed and noisy five-month-old restaurant inside the Pod 39 hotel in Murray Hill.
On the portions:
The tortillas were a little bigger than an English muffin. A small taco can be a great taco, but these were topped so minimally and sauced so timidly that masa was virtually all I could taste. A swipe of curried crema was not enough to bring four tiny and stubbornly bland cauliflower florets to life. A relish of charred onions and pomegranate molasses might have lifted two little fried sweetbreads out of dullness if there had been more than a small blotch of it.
On cultural confusion:
Those tiny portions cooled quickly. Often the fillings were cold, the tortillas going stiff, a shame because they are freshly pressed and griddled. Even the miniature naan that stood in for a tortilla in one taco was so firm one day that it was unbendable, although on another it folded obediently around chunks of spiced lamb.
He complains that the guac is cold, the margaritas are flat, the al pastor quesadillas need more pineapple, and the ceviche is chintzy on any actual fish.
Well, sure, but who could resist that fratty Murray Hill vibe?
Have a tip we should know? tips@mediaite.com