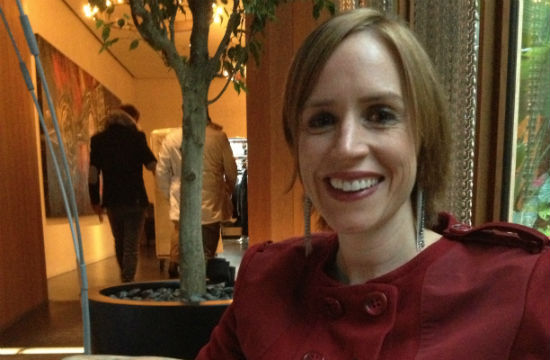 Sarah Simmons of City Grit is taking the underground supper club world by storm, by which we mean she has taken a fairly "done" premise and turned it into one of the most innovative restaurant concepts of, uh, we don't know, we're going to say the decade. She swung by The Braiser Media Lounge after a defeat at Meatball Madness during the New York City Wine and Food Festival 2012, which the two of us analyzed from all angles, like the wannabe sportscasters that we are. You know, if the sport we judged was food.
She also chats about how City Grit came to be, where its headed, and sneaking into a hotel room with Geoffrey Zakarian for some very masochistic reasons. Check out our Q&A below.
We spoke to Anne Burrell earlier today, who judged both Meatball Madness, which you competed in, and Burger Bash, and she said the meatballs were underwhelming this year. The burgers were much better. Any idea why?
I think that's due to condiments. It's really hard to have a meatball stand out on its own.
Tell us what else you're doing at the festival.
Well, we did Meatball Madness, and then at City Grit, we're hosting four of the Dine Around dinners for the festival. So we had April Bloomfield and Bill Telepan on Thursday night. And last night we did a Mile End Shabbat with I feel like a hundred chefs. At one point, there were like 24 people in the kitchen at one time. It was a lot of the who's who in the Jewish dining scene in the kitchen, so it was really special, all making their version, which we had elevated, of typical Jewish food you would enjoy.
And then tonight is Pat LaFrieda and the Meat Men Dinner. And then tomorrow I'm so excited that Marc Vetri and Mark Ladner are coming together and doing a Tuscan dinner. They're such phenomenal chefs that eating their food on its own is special, so it's going to be really special to have them cooking together.
Is there anyone here you're looking forward to meeting in particular?
I don't get starstruck. It was funny — during the Meatball Madness competition, I was off talking to Michael Anthony from Gramercy Tavern, and my publicist texted me and said, "Come back! Giada's here!" It's kind of weird, those things. But, still, it was just as exciting to me to have one-on-one time with Chef Anthony as having Giada eat my meatballs. They're all people.
Do you treat this more as an opportunity to hang out with chefs, or do you think it's more about the fans and spreading the good word about City Grit?
Oh my gosh! We have fans? I think that it's just about celebrating food, and all coming together. Whether you're a fan of chefs, or a chef, or active in the food community, this festival, I think, is more about coming together for the purpose of ending hunger than "the scene." Then again, I say that from being a part of the festival, rather than a patron. But I mean, sure, it's really exciting for folks who live across the country who watch these TV shows and love all these celebrity chefs to get the chance to be with them. It's exciting for them. That shouldn't be understated at all. It's a great opportunity.
Congratulations on City Grit's first birthday, by the way. Do you have any plans to evolve the concept in any specific way?
We have some big plans in the works, and it involves finding a new location, a bigger location, where we can do more things. That's really all I can say right now.
Oddly enough, you haven't had many imitators of City Grit ever since you started. The closest I can think of is Living Social who does a guest chef thing, but it's not as intimate as City Grit. What makes this harder to copy as opposed to, say, a pop-up?
That's a really hard question, because I feel like everyone is starting to do guest chef series. But I think we're just focused on telling chefs' stories. And I just wanna make food! I've been out of the kitchen running the business, and my sous chefs left, and it has forced me to go back into the kitchen, and it's just for love of the food and the industry. I think that we're doing it for a different reason than most. But I feel like everyone is starting to do the guest chefs thing.
You've mentioned before that you've been inspired by French salons in putting City Grit together. Can you talk a little more about that?
It was really the only way we could describe what we were doing. We have the permits of a restaurant, but we're not open every day. We are reservation only, but open to the public, so it's not a club. So, in thinking about our concept, we looked at the definition of "salon," and it is "the gathering of people under one roof of an inspired host." It just makes sense to call it a culinary salon, because what we do is bring people together around food. And whether it's introducing a chef to a producer or a wine maker, it's just all about the culture. So we just thought it was a really great way to describe our concept.
If you were going into a situation in which some evil government threatened to take away your restaurant unless you competed in a cooking contest of your choice, what would it be and how would you win? Kind of like The Hunger Games for celebrity chefs.
Can I just let them take my restaurant and go on vacation? I'm so tired! I can't imagine having to compete to save it! I think that because I haven't paid my dues, I haven't risen through the ranks, I haven't been in the food world very long, that people underestimate the obsession I have with creating dishes. I work really hard at what I do and I think a lot about it. So I don't know if that would make me a good competitor or a bad competitor. Someone invited me to a competition and said, "I think you'll be great, because you won't over-think it." Obviously they don't know me, because I over-think everything.
It couldn't be something like Top Chef, because the Quickfire Challenge would make me crazy. Chopped? I would literally run around the kitchen screaming and crying for 20 minutes. And then, in the last two minutes, I would panic and start throwing everything in a pot.
Can I have a meatball eating contest? I would like to be in a chicken wing contest. I ate my first chicken wing in my early 20s. I don't know why I missed out on this through all of college, so I have a lot of time to make up for, so maybe a chicken wing eating contest.
Have you had a really cool celebrity sighting at your restaurant?
Jacques Torres came to dinner a few weeks ago. Tyra Banks has been a few times. She's just beyond a celebrity. She is so amazing. Of all the things she does that are amazing, the thing I think is most amazing is how involved she is with The Girls Club and empowering women. And so I am just in awe of her, so it was really awesome that she's been in.
Jon Bon Jovi. He came, and we literally for weeks — because of the set up at City Grit, the table numbers are never the same, so Table 1 could be a four-top one night and a ten-top the next night — but we referred the to table that he sat at as Jon Bon Jovi's table for literally weeks.
And having my chef friends who at least came and ate my food, that is pretty exciting.
If you could sneak into a room here at The Dream Downtown Hotel with anyone at NYCWFF 2012 for one hour, no questions asked about what went down, who would it be?
I would have Geoffrey Zakarian up and ask him about Meatball Madness. I watched him eat my meatball, I said to his assistant, "Oh, he did not like it." He said, "You can't tell that." So maybe that's what I would do. That's such a waste of an hour, to ask someone why he didn't like your food.
I love Chuck Hughes. I really want Chuck Hughes to cook at City Grit. When we opened City Grit, we were thinking about the concept of bringing up-and-coming chefs to the service, helping them get exposure, but also bringing chefs that are geographically undesirable, where it's really hard to eat in their restaurant. A lot of people go to Montreal, but it's not that easy to get to, necessarily. And I just think — I haven't eaten his food — but I think his food is probably phenomenal. Just based on his show, you can tell he has every technique down, he really understands food. I would love to be locked up in a room with a kitchen with him.
For the record, Justin Warner from Food Network Star told us earlier today that you and City Grit were flat-out robbed at Meatball Madness.
He's awesome. Have you seen his dog? He has a Pomeranian named Kewpie. So cute.
Have a tip we should know? tips@mediaite.com