Semi-Homemade? Food Network Opens Restaurant In Fort Lauderdale International Airport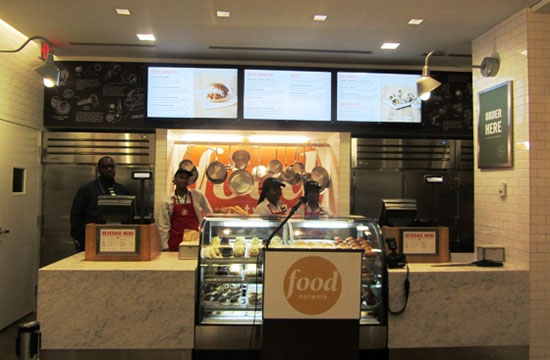 You know, the surprising thing about the news of the Food Network Kitchen — yes, a restaurant in Fort Lauderdale-Hollywood International Airport whose theme is entirely based on the Food Network — is that, reportedly, it's not as kitschy as it could have been.
"I prepared myself for a terminal restaurant that had memorabilia a la Hard Rock Cafe (Look honey, we're eating a burger under Guy Fieri's bowling shirt!)," sighed a reporter from The Broward-Palm Beach New Times (who also had to run the gamut of TSA indignities in order to attend the ribbon-cutting ceremony for the restaurant, located in Terminal 3 past security).
Weirdly enough, it has the subtlety of the Food Network from years past, back when Emeril Lagasse's "BAM!" was a novel concept and Alton Brown's only business was lighting turkeys on fire.  "True, there are flat screen televisions that, instead of football, show Anne Burrell making love to a pot roast," she writes. "But the rest of the place is bright and cheery, with citrus pops of color and drawings of food on chalkboards." In fact, it seems very much like one of those Wolfgang Puck airport restaurants, with a takeout counter and a heavy emphasis on sandwiches and oatmeal, which are, allegedly, better than most airport food.
Don't you miss those days, when the Food Network was all about cooking good food? Let's close our eyes briefly and pretend that it's 2003, and also that Guy Fieri's Times Square restaurant didn't exist. Ah, those were the days.
[The Broward-Palm Beach New Times via The Daily Meal]
Have a tip we should know? tips@mediaite.com