President Obama Wins Florida To Complete 332 To 206 Electoral Victory Over Mitt Romney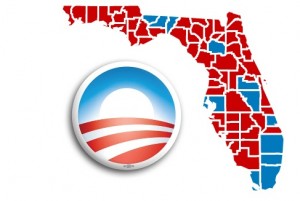 After four long days, our long, national nightmare is over. The State of Florida, and it's 29 electoral votes, have been won by President Obama, bringing the margin of his electoral college victory to a rather stunning 332 to 206. Since the President had already won reelection without Florida, the failure of Governor Rick Scott and the Florida legislature to run an election that met even 20th century standards didn't become a national crisis, and the question on many voters' lips, upon hearing this news, is "What ever happened to that Mitt Romney guy, anyway?"
After a four-day count with neck-and-neck tallies, President Obama was declared the winner of Florida's 29 electoral votes Saturday, earning 50 percent to Mitt Romney's 49.1 percent, according to the Secretary of State's office.

The victory puts the president – who had clinched reelection Tuesday night even without Florida – at a final 332 electoral votes to Romney's 206. It also marks his sweep of eight of the nine swing states, with North Carolina his only battleground loss.
The final election results, which also show President Obama with a comfortable 3 million vote-plus lead in the popular vote, are stunning because of the way they completely subverted the expectations of the mainstream political press, who almost uniformly predicted a razor-thin electoral race to be decided by Ohio, and a likely popular vote win by Mitt Romney. This election is also stunning in that, four days ago, we almost elected a guy president whom we can barely remember four days later. While it is fair to interpret this victory as a mandate for President Obama, and for Democratic policies, it's also fair to say that this election has underscored the fact that almost half of America will, to paraphrase Dennis Hopper's Frank Booth, elect anything that moves.
Now that Republicans no longer have to pretend that they like Mitt Romney, they really ought to go back and take stock of the many things that should have completely disqualified him for the presidency, even things which were largely ignored, like his hidden camera remarks about the Mideast peace process. In concert with that long, painful inventory, they should also remember that Romney only managed to secure the nomination by dumping metric tons of political napalm on an endless string of candidates who were even more ill-suited than he was. The noises you hear from Republicans these days are about fine-tuning their message, but this election should be telling them that they don't need a few tweaks here and there, they need a whole new script.
Have a tip we should know? tips@mediaite.com