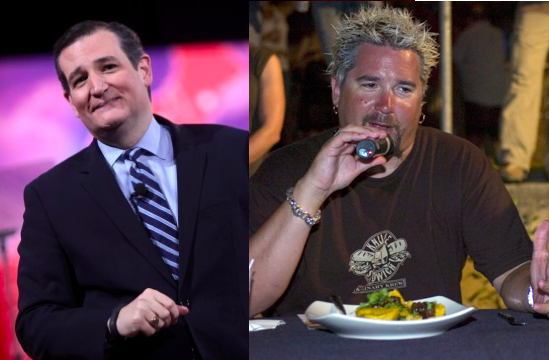 Ted Cruz walks into a restaurant. A restaurant that serves Bacon Wrapped Barbecue Shrimp, Piña Colada Royales, South Beach Mojitos, and Caliente Margaritas. That restaurant belongs to Guy Fieri. Fieri checks himself out "in front of the mirror he'd tricked out with flame decals, admiring his forehead oils." Then, he goes to meet Cruz, and the rest is history made in a dumpster behind the restaurant.
It's the erotic fan fiction you didn't ask for and definitely didn't need, but it's something that exists on Earth now and now that we've seen it we can't un-see it. Therefore, we're sharing it with you. It's written by Lana Adler and Talia Lavin and it was published to Tumblr over the weekend. Here are some of the best bits from the piece:
 "Ted Cruz walked in a Genuinely Human Manner, as he had so often been instructed by his campaign manager, through Times Square."
"Suddenly, a revelation: a shock, something altogether new but somehow familiar. A hot pulse thrummed through his doughy animal frame and into the place where he thought there could be nothing. Where there never had been feeling. Where only the heavy weight of his continued existence, his perpetual and cursed need to summon buffalo blue-sabi'd minions to his side hung like a millstone. It electrified him, the twang of a sudden sense of, could it be…recognition of a familiar? He slipped his mirrored sunglasses from the pocket of his Hawaiian shirt, flipped up the lapels of his red leather vest, and strode out, his testicles as pendulous and wrinkled as his sour cream-laden triple loaded baked potatoes."
"They knew it had to happen in the dumpster, amidst the ruins Fieri had created. Amidst the soft filth-beds of over-salted linguine, the dried rivers of donkey and bluesabbi sauce covering their thrusting bodies, like the fluid of the womb."
"THIS IS WHAT WE DESERVE!", they omitted from their mouth holes. "WE HAVE TRULY LOOKED INTO THE ABYSS AND LOOKED BACK AT OURSELVES!"
"WE ARE THE KINGS OF FLAVOR TOWN!"
The piece in its entirety can be found on Lana's Tumblr.
–
Have a tip we should know? tips@mediaite.com