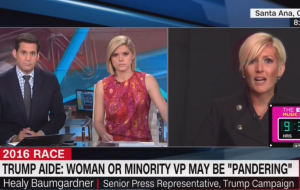 Healy Baumgardner was back on live television today, even though she provided such a mesmerizingly poor performance when she gave the whole "cable news interview" thing a shot last week.
While Kate Bolduan and John Berman were asking Baumgardner questions about the campaign of her boss, Donald Trump, she repeatedly insisted that she wasn't qualified to speak about any details. Just so you are aware, as the senior press representative for the campaign, answering questions about Trump and his plans is literally her job.
After Baumgardner declined to answer the first two questions sent her way, Bolduan asked, "Why can't you speculate? You're a senior press representative for Donald Trump…"
Baumgardner answered, "Because only Mr. Trump speaks for Mr. Trump!"
Even toward the end of the segment, when Berman prodded Baumgardner to give her own personal opinion — "just as a human, not as a representative of the Trump campaign" — on whether the selection of minority vice presidential candidates as running mates is "pandering," she stuttered through a vague answer and somehow ended up talking about Trump's success in international business.
Watch now:
Just like she did during the last train wreck of an interview she took part in, Baumgardner awkwardly asked for questions to be repeated, claiming she was having issues with her earpiece.
Also just like last time, she began immediately taking heat on Twitter:
Trump's Healy Baumgardner looks like a nervous wreck & her hair is stuck to her eyelashes & migrating across her face

State of the Union

— Cheaptarts (@Cheaptarts) May 26, 2016
This Healy Baumgardner is getting pummeled on @Cnn. "senior press rep" is her title. She should figure out talking points before going on TV

— barrett marson (@barrettmarson) May 26, 2016
@realDonaldTrump Healy Baumgardner FLOPS @CNN When Asked About Moderate Muslim Ban. She Can't Answer A Single Question. #Unqualified

— PrinceReebus (@princereebus) May 26, 2016
It's pure comedy every time I see Healy Baumgardner speak. She'd tell you she's not gonna speculate the weather if you asked her ?

— DJ Venus (@DJVenusMusic) May 26, 2016
Is there a single question Healy Baumgardner CAN answer as Trump's Sr Press Rep? Why even give an interview? WTH is point of going on TV?!

— Michelle Goll (@gollyatx) May 26, 2016
As I was writing this post, someone even reached out to me on Twitter to make sure I saw:
It looks like CNN's let Healy back onto their network after that snafu @ellefs0n https://t.co/jo4sZVLGmg pic.twitter.com/c4aKe02uol

— Jonathan Yuan (@jyuanathan) May 26, 2016
I guess this means I'm officially on the Healy Baumgardner beat, but whether she will be allowed back on television for me to cover all depends on the Trump campaign.
[image via screengrab]
For more from Lindsey, try Twitter or Facebook.
Have a tip we should know? tips@mediaite.com