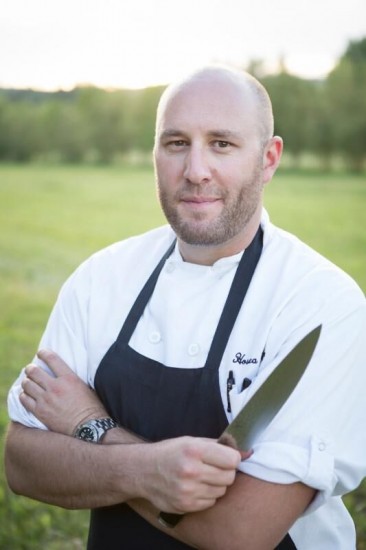 Season five of Top Chef made a lot of stars. Carla Hall is one of the most recognizable alumni of the entire franchise, Leah Cohen is killing it at Pig and Khao in New York City, and who can forget Fabio Viviani? But, there can only be one winner. We caught up with Hosea Rosenberg, who is now living in Boulder, Colorado. He is the owner of Blackbelly, a market, restaurant, catering company, and butcher shop which truly embodies the farm-to-table philosophy. Really, though. It has its own farm.
Rosenberg is constantly evolving, and he is embracing Colorado. He recently made headlines when he hosted a cannabis themed dinner at his restaurant, which included four courses and marijuana pairings for each. Read the interview below to find out what he's been doing since Top Chef, and what's next for him!
TB: How did your life change in the immediate aftermath of Top Chef?
HR: Hard to put it into words. Everything changed. I was recognized everywhere I went, I was invited to cook with celebrities, on TV, and around the globe. It was very exciting and a really fun time in my life.
TB: Follow up question: How has your life changed in the long term?
HR: The win gave me a lot of options for my future and my career. Its a huge jump in recognition that I leveraged to build my own dream of owning my own business and doing things the way I wanted to do them. I have not only built a company that I am extremely proud of, I am cooking the food I want to cook, learning how to farm and raise animals, traveling the world, and spending more time with people I love.
TB: What is the most important lesson you learned from Top Chef?
HR: It's amazing to know what you can accomplish in a very short amount of time if you must. When your back is against the wall, you must rise to the occasion.
TB: You seem to be ever-evolving. Blackbelly started as a catering business and now it's a farm, butcher shop and a full-service restaurant as well. What's next?
HR: We are expanding the butcher shop this spring, creating a line of private label products, and hopefully building a new restaurant in Denver soon!
TB: Do you have any plans for another cannabis dinner? Or, any plans to incorporate cannabis as a permanent fixture in your menu at Blackbelly?
HR: Yes, we are doing a cannabis dinner at the end of this month in Boulder. They are private events and we don't actually ever cook with cannabis – we pair food to go along with it. It's an important distinction and I struggle to make it clear to the public. The dinners are a collaboration with dispensaries, so we don't actually ever have it in the kitchen. I don't want people to think that there's a risk of getting high from the food. The food is separate. But the events are really fun, exciting, and brand new to the market. We love doing them.
TB: Do you still keep in touch with anyone from your season of Top Chef?
HR Absolutely! I was just in NYC cooking at the James Beard House and I visited with a number of friends from my season. I feel like they are part of my family. I try to be in touch with them as often as I can. In fact, I really want to host a reunion dinner at my restaurant one of these years before Aspen Food & Wine.
TB: If you could only have one condiment for the rest of your life, what would it be?
HR: BACON! Yes, it's a condiment. Don't argue with me.
You Might Also Like:
Top Chef: Where Are They Now? Hung Huynh
Top Chef: Where Are They Now? Ilan Hall
Have a tip we should know? tips@mediaite.com