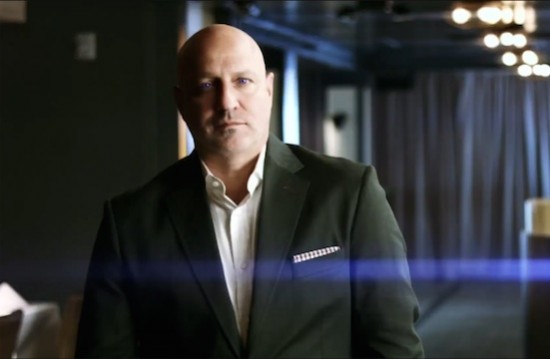 OK, maybe we have got a bit burned out on Top Chef (and stop throwing things at us for saying so!). But holy cow, does Tom Colicchio's new Bravo show look crazy good.
Freshening up that whole reality cooking TV show format is the new show Best New Restaurant, premiering January 21. Colicchio, his business partner in 'wichcraft, Jeffrey Zurofsky, and the editor in chief of Blackboardeats.com, Maggie Nemser, are the new team of judges traveling across the country to determine which of 16 restaurants is worthy of the "best new restaurant" title (and $100,000 and a feature in Bon Appetit magazine).
Restaurants will face off two at time, the winner entered into the semifinals, essentially a pop-up restaurant round; the last two restaurants standing will then host 50 VIP diners at Colicchio's restaurant, Riverpark. But leading up to that, the competition sounds crazy intense and all-stakes-in for these restaurants. From People:
First, the restaurants are subjected to a "Pressure Test," in which 30 hungry diners descend on the restaurants without notice to see how the businesses handle the stress of a packed house. Next, Tom sends in two "Undercover Diners" wired with hidden cameras in order to get a patron's perspective when the restaurants do not know they are being judged. Finally, the two paired-up restaurants come together in a neutral location and serve dinner for 30 VIP diners. At the end of each of the first eight episodes, Tom declares one restaurant the victor, and the establishments move on to the semifinals.
Does anyone get out alive at this point? Seriously?
Among the restaurants competing: Brooklyn's The Pines, Miami's Buns & Buns, Austin's Barlata Tapas Bar, and Los Angeles' The Little Sparrow. We have to admit, we're looking forward to this almost as much as MasterChef Junior.
[People]
RELATED: Tom Colicchio Blasts WSJ Critic on Food Policy Action: 'I'm Not About To Stop Now'
New Ranking Of Highest-Grossing Restaurants Makes Us Never Want To Be a Restauranteur
Top Chef Contestant Arrested on Felony Domestic Violence Charges
Have a tip we should know? tips@mediaite.com