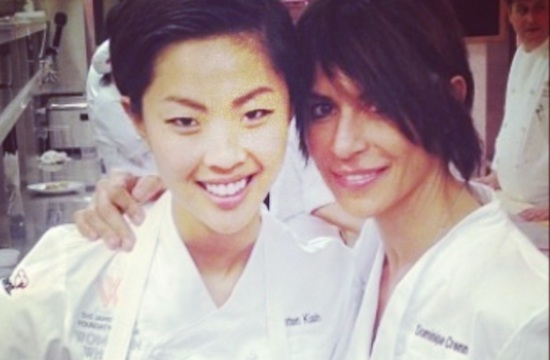 God bless you, James Beard Foundation, for giving some talented women their due.
At last night's Women in Whites gala — which, in retrospect, the good people at JBF must be thanking the assholes out there for making it such good timing to recognize lady chefs — there was no shortage of talented lady chefs (and lady TV stars). On the docket were many JBF winners, and lady chefs who've already shot to the top: Dominique Crenn at Atelier Crenn, Kristen Kish at Menton, JBF winner Barbara Lynch at No. 9 Park, JBF Winner Melissa Kelly at Primo, and even Pegu Club's Audrey Sanders. Oh, and shout outs from Martha Stewart and Gail Simmons — and Tyra Banks was there? Crazy. As told by Twitter and Instagram:
Photo: #StartingUp #WomenInWhites #JamesBeardFoundation #JBFGala #TheFourSeasons (at The Four Seasons… http://t.co/delNFaq8ac

— Anamaria Penaflorida (@Anamaria1117) November 15, 2013
Foie gras terrine w walnut, brioche Sable @beardfoundation #womeninwhites@barbaralynch pic.twitter.com/Put1YVf1F6

— Pamela Morgan (@pamflavors) November 16, 2013
Here at 4 Seasons @beardfoundatiom #womeninwhites #jbfgala @marthastewart gives @gailsimmons babyfood tips pic.twitter.com/lTALSFtaiJ

— Mitchell Davis (@kitchensense) November 15, 2013
Tyra banks and Kathryn [email protected] at the James beard foundation dinner at four seasons. What food! Wine! pic.twitter.com/4i1SIn8iBk

— Martha Stewart (@MarthaStewart) November 16, 2013
#FF @beardfoundation #WomeninWhites chefs: @barbaralynchBOS @dominiquecrenn @KristenLKish @merryedwards @HotBreadKitchen!

— Gail Simmons (@gailsimmons) November 16, 2013
On the menu at the gala: razor clams made by Crenn, foie gras terrine made by Kish, and white truffle gnocchi (OMG) made by Lynch. And just because we love the description so much from JBF:
James Beard was a passionate champion of female cooks. Many of the women he supported, like Julia Child, M.F.K. Fisher, and Alice Waters, went on to become some of the most legendary figures in American food.

In honor of the accomplishments of women in our industry, the theme of the 2013 James Beard Foundation Gala is Women in Whites. We've invited some of the country's most talented and successful female toques to craft an unforgettable multicourse meal, which will be complemented with exquisite pairings from renowned female winemakers.
See? SOME PEOPLE think female chefs are worth recognizing. *cough* TIME MAGAZINE.
RELATED:
TIME Magazine Writes Article About How Their 'Gods of Food' List Excluded Women, Eats Itself
The New York Times Does The 'Lady Chef Debate' Right by Actually Asking Female Chefs for Their Opinion
After Reading Amanda Cohen's Response to TIME, We Declare Her Ruler of Lady Chefs
Have a tip we should know? [email protected]