'A Deranged Psycho': Trump Goes Nuclear on Special Counsel Jack Smith and Targets His Wife
Former President Donald Trump unloaded on Special Counsel Jack Smith after the indictment against him was unsealed on Friday afternoon, lambasting him as "a deranged 'psycho.'"
"This is the man who caused the Lois Lerner catastrophe with the IRS. He went after Evangelicals and Great Americans of Faith. The United States had to apologize, and pay major damages for what this deranged lunatic did," submitted Trump on Truth Social.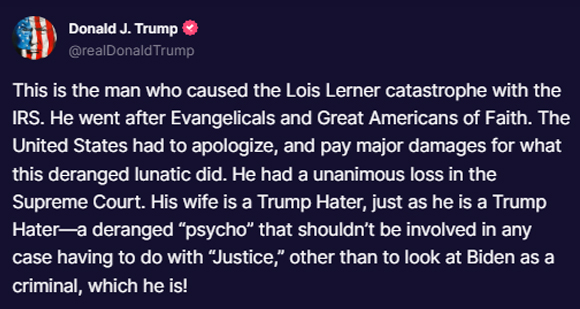 "He had a unanimous loss in the Supreme Court," he wrote. "His wife is a Trump Hater, just as he is a Trump Hater—a deranged "psycho" that shouldn't be involved in any case having to do with "Justice," other than to look at Biden as a criminal, which he is!"
The Department of Justice unsealed a 37 count criminal indictment against Trump on Friday. According to the document, Trump took classified documents from the White House that "included information regarding defense and weapons capabilities of both the United States and foreign counties; United Slates nuclear programs; potential vulnerabilities of the United States and its allies to military attack; and plans for possible retaliation in response to foreign attack," and refused to turn them back over to the proper authorities, even floating the possibility of lying to federal authorities about the fact that they were in his possession.
"Wouldn't it be better if we just told them we don't have anything here?" he asked one of his lawyers in one instance.
Smith is holding a press conference at 3:00pm eastern time on Friday.
Have a tip we should know? tips@mediaite.com