'Content of Their Character': Obama Under Fire After Advisor Reveals His Favorite Bloggers Are All White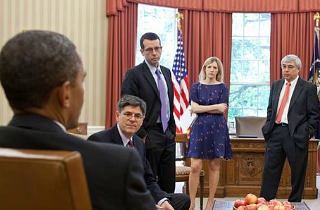 On Monday at an event produced by BuzzFeed Politics, President Barack Obama's former assistant press secretary and National Security Council spokesman, the media savvy and telegenic Tommy Vietor, revealed some interesting details about his former boss. When asked about Obama's reading habits, Vietor revealed that the president does read some of the blogosphere's most prolific and prominent writers.

His favorites, Vietor revealed, include the Washington Post's Ezra Klein, New York magazine's Jonathan Chait, and Business Insider's Josh Barro; A liberal policy wonk, a liberal political analyst, and a passionate technocrat whose brand of advocacy is functionally indistinguishable from modern progressivism.
This selection of bloggers Vietor singled out to list as the president's favorites says a lot about the man. It speaks to his and his staff's tendency to embrace intellectual cocooning, but it also reveals that the president is eager to embrace the younger saplings in the punditry community as much as he does old oaks which populate the New York Times editorial pages with their often predictable compositions.
But one enterprising blogger found a new angle in Obama's list of favorite bloggers to criticize: the president's distinct lack of race consciousness.
Indeed, this may seem counterintuitive, but it is true that President Barack Obama did not name a single African-American blogger when his three favorites were revealed. Outrage ensued.
"All white dudes?" an apparently repulsed MSNBC, New York Daily News and The Grio contributor Zerlina Maxwell wrote in reaction to the news.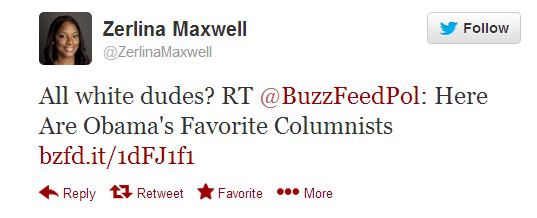 "I want to live in a world where the white dudes notice that the list of who POTUS reads is all white dudes," she continued, abandoning the quaint notion that all — including progressive bloggers – should be judged on their merits rather than their skin color. Indeed, color blindness is passé. Racial hyper-awareness is, apparently, the new vogue.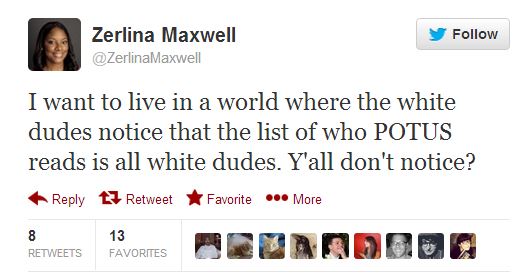 Maxwell apparently encountered criticism for insisting that she would prefer a world in which racial quotas are applied to virtually every aspect of existence. She was apparently shocked that her nakedly racial demand on society would encounter resistance.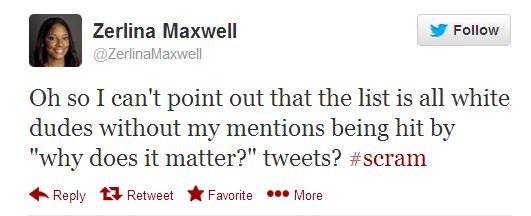 "Is it really controversial to say that maybe POTUS should diversify his reading list?" she added. "If it is then that says A LOT about you, not me."

It sure does, Zerlina. It sure does.
[Photo via White House Photo/Pete Souza]
— —
> >Follow Noah Rothman (@NoahCRothman) on Twitter
Have a tip we should know? [email protected]