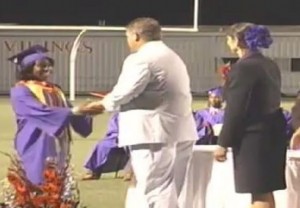 Two residents of Mississippi were arrested on Saturday morning after they allegedly tried to board a plane bound for the Islamic State in Syria. They've since been charged with conspiring and attempting to provide material support to the terrorist organization.
Jaelyn Delshaun Young, 19, and Muhammad Oda Dakhlalla, 22, were stopped by the authorities at the Golden Triangle Regional Airport just west of Columbus, Miss. on Saturday morning. According to subsequent charges, the pair wanted to travel abroad to Syrica, where they hoped to join up with the Islamic State in Syria.
Young and Dakhlalla are both U.S. citizens and recent students at Mississippi State University, where the latter graduated in May with a bachelor's degree in psychology. The former had previously taken classes, but according to university spokesperson Sid Salter, she hadn't enrolled for the upcoming semester.
Both confessed shortly after their arrest, according to an FBI affidavit. Both the arrest and the charges were a part of a much larger sting operation that has monitored Young and Dakhlalla's travel preparations throughout the summer months:
The charges indicate that undercover FBI agents interacted online with Young beginning in May about her desire to travel to Syria to join the group. The charge states that her Twitter page said the only thing keeping her from traveling to Syria was her need to earn money. "I just want to be there," she is quoted as saying. In later conversations peppered with Arabic phrases, she said she planned a "nikkah," or Islamic marriage to Dakhlalla so they could travel without a chaperone under Islamic law.
Dakhlalla told the first FBI agent in an online conversation in June that he was "good with computers, education and media" and that his father had approved him and Young to get married. In July, the charges say, he expressed a desire to become a fighter for the group. "I am willing to fight," he is quoted as saying.
Unfortunately, the pair's story isn't the first time such an operation has gone down in recent months. In June, Ali Shukri Amin, 17, of Virginia pleaded guilty to similar charges for his role as an ISIS Twitter operative. A month later, Alexander Ciccolo, the 23-year-old son of a Boston cop, was arrested for stockpiling firearms. He praised the Islamic State during his interrogation.
[h/t Associated Press]
[Image via screengrab]
— —
>> Follow Andrew Husband (@AndrewHusband) on Twitter
Have a tip we should know? tips@mediaite.com