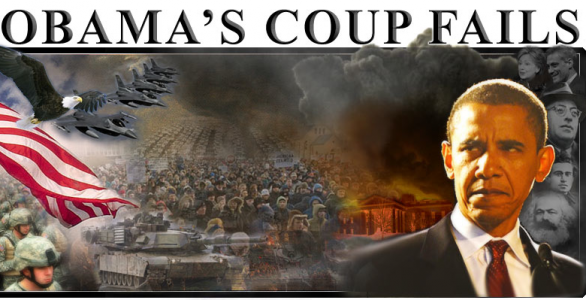 Wow. Online strategy gamers who wish to lead militias against Obama (?) can finally do so in "2011: Obama's Coup Fails," an "action-packed, satire-filled" multiplayer strategy game served up by United States of Earth.
Of course, the game is not very violent. No one in the Obama administration is killed or assassinated, the game's creator explains; they are merely "captured" by patriotic citizen armies.
This game has been kicking around the 'tubes for a while — Mother Jones' David Corn wrote a fantastic article on it last month — but Russia Today recently went behind the scenes with a camera crew. Among their findings: the game currently has 13,000 players, with hopes to draw as many as 200,000 next year. Also, its creators work behind a metal door in an undisclosed location in New York out of safety concerns.
From Russia Today:
Michael Russotto is the only mastermind out of 8 people behind the game not afraid to reveal his identity. He says over 13,000 members have already signed on, and hundreds of people play everyday. Michael is one of Obama's harshest critics. "He is purposely destroying the economy of the United States," says Michael. "The policies that he is enacting, it's a guarantee of destroying us."

This entire attitude is put in "2011: Obama's coup fails". Raids, skirmishes, assaults, hacker attacks and riots are at a player's disposal as they try to win the game by fighting Obama and his troops. With player nicknames such as "fascism rising", "osama" and "saddam", critics call the game a promotion of domestic terrorism. But Michael Russotto explains that the game is not as violent as it may seem.

"Not one person in the Obama administration is killed, no one is assassinated," Michael told RT. "They get captured … by American citizens who don't want the United States to become any kind of dictatorship."
Wired savaged the site as "poorly designed" and "the project of second-rate coders." But "2011: Obama's Coup Fails" also features futuristic political satire and fantasy written by its players, like this bit about the capture of "former Secretary of State Hillary Clinton," who of course went down using orphans as human shields:
After several tense moments Ms. Clinton appeared in the doorway, hiding behind several children used as human shields. With a little more coaxing from Bill she was finally separated from the children. At this time the Patriot forces moved in and executed a quick take-down of Ms. Clinton. As she was being moved to the transport, Bill Clinton can be heard saying, "So I guess this means that I'm not really going to get an intern?"
Ha! That Bill Clinton. He is very fond of interns.
Have a tip we should know? tips@mediaite.com