6 Big Takeaways from NYT's Stunning Report on Culture of Sexual Harassment at Vice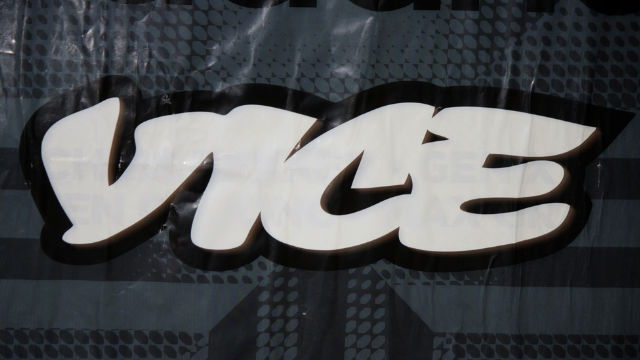 Another big report on sexual harassment culture at Vice has dropped today, this time from The New York Times.
A CNN report from late last month said people at Vice were bracing for another shoe to drop, and now it has.
The Times spoke to over 100 current and former employees, and as more people learned about their reporting, "more than a dozen women and men contacted The Times with accounts that they said were humiliating and emotionally traumatic."
Below are some of the most stunning takeaways from their reporting:
1. "Ethos of male entitlement."
Over two dozen women told the Times that they either experienced or witnessed the following: "unwanted kisses, groping, lewd remarks and propositions for sex."
These women say they "felt like just another party favor at an organization where partying often was an extension of the job":
People worked long hours and partied together afterward. And that's where the lines often blurred. Multiple women said that after a night of drinking, they wound up fending off touching, kissing and other advances from their superiors.
2. Multiple settlements
There were several settlements made concerning "allegations of sexual harassment or defamation against Vice employees," including Vice Media President Andrew Creighton:
The settlement involving Vice's president, Andrew Creighton, was struck in 2016, when Mr. Creighton, 45, paid $135,000 to a former employee who claimed that she was fired after she rejected an intimate relationship with him, according to people briefed on the matter and documents viewed by The Times. The woman declined to comment and asked that she not to be identified to protect her privacy.

Earlier this year, the company settled for an unknown amount with Martina Veltroni, a former employee who claimed that her supervisor retaliated against her after they had a sexual relationship, among other allegations, according to people briefed on the agreement and documents viewed by The Times. The supervisor, Jason Mojica, the former head of Vice News, was fired late last month. Ms. Veltroni declined to comment.

And last January, Vice reached a $24,000 settlement with Joanna Fuertes-Knight, a former journalist in its London office, who said she had been the victim of sexual harassment, racial and gender discrimination and bullying, according to documents viewed by The Times.
And there was a fourth settlement. A settlement with a pretty alarming backstory. Which leads us to…
3. "I Got Laid But Murs Didn't."
Jessica Hopper was a freelance writer who conducted a 2003 interview with the rapper Murs, who asked her during said interview "if he could have sex with her."
She, of course, said no.
Guess what happened next:
But before the article was published, the magazine changed her response to yes and printed it under the headline, "I Got Laid But Murs Didn't."

Mortified, Ms. Hopper hired lawyers. The two sides struck a settlement that, in addition to a payout, required Vice to print a retraction and a formal apology.
They did print a correction, as flagged by one Gawker reader back in 2003.
Of that particular debacle, Vice said, "The editor of the piece at that time has not been with the company in a decade. Ms. Hopper was right to call us on our conduct at the time, and we are still ashamed of it."
4. "The complicity of accepting that behavior."
Sandra Miller, former head of branded production for Vice, says on the record, "There is a toxic environment where men can say the most disgusting things, joke about sex openly, and overall a toxic environment where women are treated far inferior than men."
Many women worried about retaliation for "rejecting sexual advances from bosses" and when they did complain, they were largely dismissed.
Gabrielle Schaefer recalled an incident when Vice chief digital officer Mike Germano "pulled her onto his lap." After she went to HR, she says she "felt that she fell out of favor at the company and eventually left."
Some women were stunned by the response they got for reporting what happened:
Abby Ellis, a former Vice journalist, said that in 2013 Mr. Mojica, the former head of Vice News, tried to kiss her against her will. She said that she yelled at him and hit him with an umbrella multiple times. She said that she faced other unwanted advances from Mr. Mojica after the incident.

Ms. Ellis said that after the episode she felt that their relationship soured and that she was missing out on newsroom opportunities, so she reported it to Ms. Ashbrooke. Ms. Ashbrooke responded by telling Ms. Ellis that because she was an attractive woman she would face similar behavior throughout her career…

Two years later, Helen Donahue, a former employee, reported to Ms. Ashbrooke that Mr. Mojica had grabbed her breasts and buttocks at a company holiday party. Ms. Donahue said that Ms. Ashbrooke told her that the incident was not sexual harassment but rather someone making a move on her.

"She said I should just forget about it and laugh it off," Ms. Donahue said.
5. "Non-Traditional Workplace Agreement"
The times obtained a copy of a confidentiality agreement Vice had made employees sign that said, in part, the following:
Individuals employed by VICE must be conscious of non-traditional environment and comfortable with exposure to and participation in situations that may present themselves during the course of their employment. While working at VICE, I acknowledge that I may be exposed to highly provocative material, some of it containing extremely explicit sexual and controversial content. If I travel offsite for projects and perform work on location I will be confronted with unique and unusual situations, which may be considered offensive, indecent or unacceptable by others…

Although it is possible that some of the text, images and information I will be exposed to in the course of my employment with VICE may be considered by some to be offensive, indecent, violent or disturbing, I do not find such text, images or information or the workplace environment at VICE to be offensive, indecent, violent or disturbing.
Vice said this was about content, not conduct, but "some employees said that they took the agreement to mean that they could not complain about issues of harassment."
6. "We have failed."
The lengthy statement from Vice Media on this report acknowledges the "inescapable" truth about their company culture and apologizes for allowing the "boy's club" to thrive:
We understand that this had an impact on current and former employees at VICE, and we want to express our deepest apologies to them, as well as our extreme regret for our role in perpetuating sexism in the media industry and society in general.

Our failures stem from a) our ignorance, b) the inability to see the impact of our rapid growth, and c) the internal dysfunction that ensued. To be clear it was not any kind of intentional, company-level systemic bias. This doesn't excuse our mistakes, but we hope it gives you confidence in our desire and ability to get it right.
You can read the full NYT report here, and the full statement from Vice Media here.
[image via 360b / Shutterstock.com]
— —
Follow Josh Feldman on Twitter: @feldmaniac
Have a tip we should know? tips@mediaite.com
Josh Feldman - Senior Editor