A 'Dreamer' Was Detained After Speaking to the Press and May Now Be Deported With No Hearing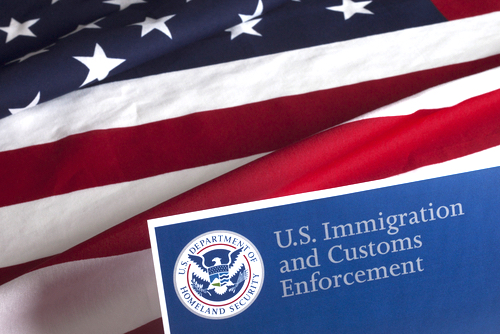 A DREAMer now faces deportation without a hearing, according to her lawyer.
Before we dive into that, there are some things you should know. A year ago, Donald Trump demonstrated that he didn't actually know anything about the Deferred Action for Childhood Arrivals (DACA) program, or the "DREAMers," when he said the program was "great" and he wanted the children of Americans to "have dreams also."
In case you don't know anything about the program either, here's the gist: Barack Obama signed DACA, which more or less gives legal status to anyone who came to the United States illegally as a child. Those people are called the DREAMers, in honor of the Development, Relief, and Education for Alien Minors Act, which did not pass but set the tone for the DACA executive order.
Last November, conservative senator Lindsey Graham stated he was working on legislation that would protect DREAMers from deportation if Trump really does away with all of Obama's executive actions. His reasoning was that whether people approve of those kids having legal status, they had to self-identify to get it, which he didn't think they should be penalized for.
One DREAMer, Daniela Vargas, did more than self-identify to get a work permit. She has been an outspoken advocate for DREAMers and immigration reform. In fact, after a press conference on Wednesday during which she gave a speech calling on Trump to protect immigrants like her, she was pulled over and detained by ICE. In the speech, she spoke candidly about her fears of deportation and her ambition to stay in America and become a university-level math professor. She express concern that her dream might never come true.
Now, her lawyer, Abigail Peterson, is saying that she is going to be deported without a hearing as her case is being treated as a situation of "visa waiver overstay," according to the Associated Press. Her family brought her here from Argentina at the age of seven. Her DACA status expired in November, but she filed for renewal in mid-February after she had saved up the $495 application fee.
Here is a statement, courtesy of Peterson:
Here is a statement from the 22-year-old Dreamer facing deportation after speaking out, shared by her lawyer https://t.co/1nxsrZlkbZ pic.twitter.com/Rs6tqQXD0H

— Elise Foley (@elisefoley) March 3, 2017
Her father and brother are also awaiting deportation, which she mentioned in her speech on Wednesday.
[image via danielfela/Shutterstock]
——
Have a tip we should know? tips@mediaite.com