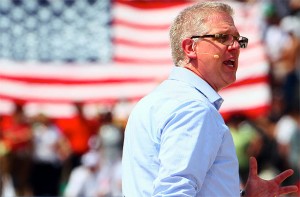 Has Fox News gotten too liberal? That's what one prominent conservative activist vociferously claims. Cliff Kincaid of America's Survival has launched a call for Fox News to bring back Glenn Beck.
"Fox News has been disintegrating since Soros-funded groups forced Glenn Beck off the air," declared Kincaid. "His show was replaced by a program featuring Democratic Party hack Bob Beckel, who regularly insults conservatives. It's time for Glenn Beck, now on Internet TV, to return to the cable channel so that he can continue his investigative journalism into the rapidly expanding influence of the Soros network of organizations. We urge Fox News CEO Roger Ailes to negotiate Beck's return at the earliest possible date."
RELATED: The Simpsons Take On Fox News And Glenn Beck
Kincaid pointed to Fox News' recent hiring of liberal political contributor Sally Kohn as an indication that the network is taking a sharp left turn. "Not only is Kohn now on Fox News, where she can demonstrate the channel's "fair and balanced" commitment by championing radical Arab and pro-Marxist causes, she is being given open access to the influential FoxNews.com website, where she writes articles praising the Occupy Wall Street movement," Kincaid exclaimed on his website.
Kohn responded to Kincaid's attacks.
"If you're trying to build a bold bridge to a better future for everyone, you can't be bothered by the trolls underneath," she told Mediaite.
Beck left Fox News in June 2011, and his show was replaced by The Five which has drawn more advertisers than its predecessor and has been a huge ratings draw, as the sixth most-watched show in cable news with an average of 1.4 million total viewers. The Five has outperformed Beck's final month by 4% in total viewers and has shown growth for four straight months, from September 2011 through January 2012, according to Nielsen.
Have a tip we should know? tips@mediaite.com