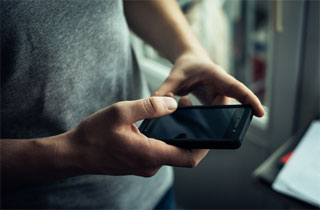 It's a tale as old as time: powerful old politician dude allegedly strikes up affair with nubile college intern. But this time, thanks to the Kansas City Star, we have texts of the entire thing. Oh, modernity.
Earlier this spring, Missouri Southern State University abruptly ended its legislative internship program, pulling all four of its students out of their internships in the state capitol and reassigning them to law offices or political action groups. Though the university could not comment on the reason they ended the program due to student privacy laws, the Star gathered enough evidence to suggest that one of their students was having an affair with the state's Republican Speaker of the House, John Diehl.
The Star somehow got their hands on screenshots of iMessage chats between the married Diehl and the unnamed intern. And what a steamy (read: completely, boringly typical) affair they allegedly had!
Her: "You better take care of me."

Diehl: "Like how?"

Her: "I'll bet you'll figure it out."

Diehl: "I dunno. You have always been disappointed;)"

Her: "I just have high expectations, I guess. Thus far, you've done pretty well (an emoji blows a kiss)"

Diehl: ":). I kinda want to hear what you are expecting"

Then, shortly after, he types: "You will be in good hands :)"

At one point Diehl texts her "God I want you right now," to which she replies "I wish you could have me right now."

In another exchange, she sends a picture of herself in a bikini and Diehl responds: "Damn girl …"

"Nice"

Shortly after he writes: "I want to see more" followed by a smiling emoji.

Another exchange centered on Diehl texting that he was "Laying in bed looking at your pic :)"

She responded: "Mmmmm why can't I be there :)"
The Star also confirmed that the screenshots, apparently sent to others, originated from the intern's phone, which confirms that interns are dumb and it's a bad idea to conduct secret affairs with them. Or with anybody! Cheating on your spouse is bad! But it's monumentally dumb to have an affair with an indiscrete young person who will screencap your flirty texts and send them to their besties.
(According to a teenager I consulted, this is a common practice. Yes. They are that dumb.)
As a postscript, here is the difference between teenagers and middle-aged men: Diehl's office initially cooperated with the Star's investigation and offered to send them all of Diehl's phone records. None of them contained anything incriminating, until the Star realized that messages sent over iMessages are sent over WiFi or mobile Internet, and don't appear on cellphone records. "Niether Diehl nor his staff ever mentioned that he regularly uses iMessage to send texts until asked by The Star on Tuesday," they noted.
UPDATE — 5:51 p.m. ET: Diehl issued an apology for his actions:
Missouri House Speaker John Diehl, Jr. issues a statement about inappropriate texts with intern.
@41ActionNews pic.twitter.com/9AYoyBGFhC

— Jessica McMaster (@JessMcMasterKC) May 13, 2015
[Image via Shutterstock]
—
>> Follow Tina Nguyen (@Tina_Nguyen) on Twitter
Have a tip we should know? tips@mediaite.com