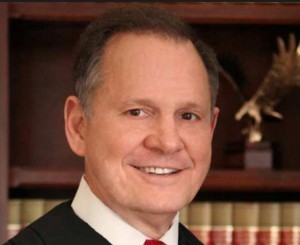 Are you having a bad week? Take heart; I know someone having a worse one, and it is Alabama's Chief Justice, Roy Moore.
Moore's 24-year-old son Caleb was arrested on drug charges on March 15, 2015 and on December 21, he pled not guilty, which is news that has only come out this week, though it should be noted that he pled guilty to two other drug-related charges in 2013 and 2014.
Moore himself was busy today, doubling down on his crusade against same-sex marriage by trying to ban it altogether, which he has attempted in the past.
According to CBS, he released an administrative order statewide that said, "Until further decision by the Alabama Supreme Court, the existing orders of the Alabama Supreme Court that Alabama probate judges have a ministerial duty not to issue any marriage license contrary to the Alabama Sanctity of Marriage Amendment or the Alabama Marriage Protection Act remain in full force and effect."
This swift, harsh action is the next logical step in a very public meltdown that has been going on since the Supreme Court struck down gay marriage bans across the country in June. This is a man who has actually shared a belief that the SCOTUS ruling could lead to a war, so today's action comes as no surprise.
The previous ban on gay marriage in Alabama was lifted in some counties prior to the SCOTUS ruling when, in February of 2015, U.S. District Judge Callie Granade ruled the bans unconstitutional. As mentioned, following her ruling, Moore told probate judges in the state that they were not obligated to issue marriage licenses to same-sex couples, causing a lot of confusion for just about everyone involved.
If there is one thing to be said for Moore and his son, it's that at least they are each consistent in their own way.
For more from Lindsey, follow her on Twitter!
Have a tip we should know? [email protected]