It's 2014 and according to Gallup's long-running "confidence in news media" survey, Americans finally trust "news on the internet" more than they trust "television news." Gallup released the new results on Thursday, which also show that Americans' faith in all three major sources — internet, TV and newspapers — is at or tied with all-time lows.
As the figure below reveals, only 22% of Americans surveys have a "great deal" or "quite a lot of confidence" in newspapers, while that number drops to 19% for the internet and 18% for TV. A year ago, newspapers and TV were tied at 23%. The only other time Gallup surveyed respondents about internet news was in 1999 when 21% answered affirmatively.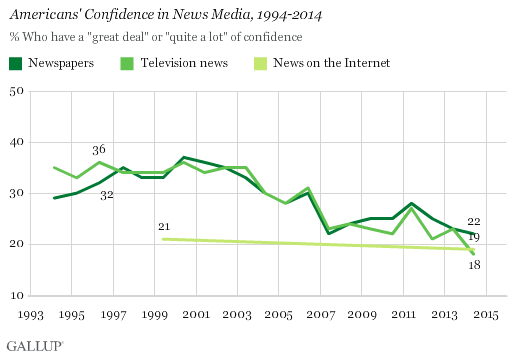 As Gallup reported, "Confidence in newspapers has declined by more than half since its 1979 peak of 51%, while TV news has seen confidence ebb from its high of 46% in 1993, the first year that Gallup asked this question."
The survey also broke down confidence in news media by political identification. While conservatives' confidence in newspapers hit an all-time low of 15% this year, liberals' confidence in newspapers actually increased over the last year from 31% to 34%.
By contrast, at 21%, conservatives trust TV news more than liberals, who said they had a "great deal" or "quite a lot" of confidence in TV news just 15% of the time.
Finally, when it comes to the internet, liberals are more likely than conservatives to trust what they are reading. While 22% of liberals reported having confidence in online news, only 17% of conservatives said the same.
Ultimately, the Gallup survey should not be seen as good news for any news media organizations, regardless of the platform on which they exist. The flip side of these numbers reveal that 78-82% of Americans asked about their confidence in media answered "some," "very little" or "none."
In light of these new Gallup results, here's a poll for Mediaite readers. If you had to pick one of these three mediums as your "most-trusted" news source, which would you pick?
[Photo via Shutterstock]
— —
>> Follow Matt Wilstein (@TheMattWilstein) on Twitter
Have a tip we should know? tips@mediaite.com