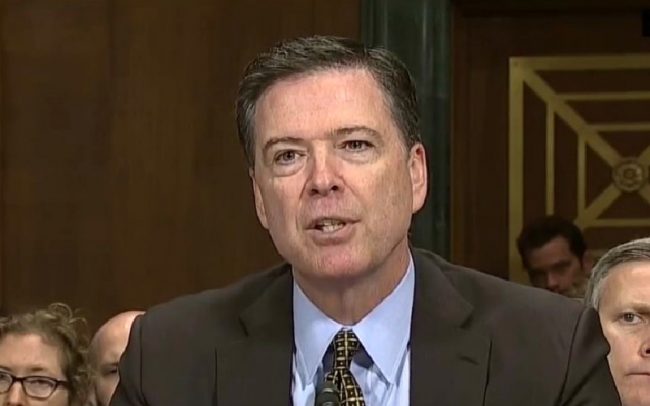 Just when we thought we had heard the last of James Comey.
Today news emerged that the former FBI director famously fired by President Donald Trump plans to write a book about his public service — which will include his final controversial months during the administration.
The news was reported in the New York Times and elsewhere Saturday evening and now ensures that the ex-FBI chief will remain in the headlines for many more months — if not years — to come.
While no deal has been announced, publishers are reportedly already salivating for the opportunity to have Comey's explosive story.
Per NYT:
Mr. Comey has been meeting with editors and publishers in New York in recent days, and is being represented by Keith Urbahn and Matt Latimer, partners at the literary agency Javelin. The book is expected to go to auction this coming week, and all the major publishing houses have expressed keen interest, Mr. Latimer said.

The book will not be a conventional tell-all memoir, but an exploration of the principles that have guided Mr. Comey through some of the most challenging moments of his legal career. Among those are his investigation into Hillary Clinton's private email server during a contentious election, and his recent entanglement with the president over the F.B.I.'s inquiry into Russia's interference in the 2016 election.
The move underscores Comey's talent for headlines.
In a season of open congressional hearings, his stole the show when he said it made him "mildly nauseous" that his conduct during the 2016 presidential campaign regarding the Hillary Clinton email investigation might have led to Trump's election. His tough treatment of Trump and alleged refusal to drop his investigation into Russian collusion ultimately led to his dismissal from the FBI's top job.
Now, armed with untold amounts of salacious information, Comey seems increasingly gearing up to be one of the president's most ferocious and dangerous outside critics.
[image via screengrab]
Have a tip we should know? tips@mediaite.com