Anderson Cooper On Christine O'Donnell: "I Don't Think Anyone Should Count Her Out"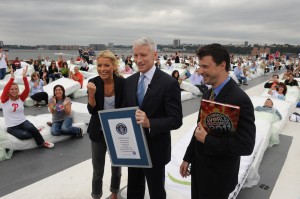 CNN's Anderson Cooper thinks Democrats should look out for surprise Delaware GOP candidate Christine O'Donnell. "The night it happened a lot of Democrats were saying, 'Oh this is great for the Democratic party,' but you look at the polls, and I don't think anyone should count her out," he said.
We talked to Cooper today at the Intrepid in New York City for a Guinness World Record breaking event that will air tomorrow when he co-hosts Live with Regis and Kelly.
Cooper joined host Kelly Ripa and 380 others to break the record for largest human mattress dominoes. Seriously! The former record was 256 – Ripa started the domino chain, and Cooper was human domino #380. (Mattresses were provided by Sleep to Live, and were donated to Furnish a Future after.)
After the record was broken, we talked to Cooper and Ripa about the event and hosting the morning show together (video below), and Cooper about politics and more. He says he enjoyed "exercising different muscles" like this one, but "I love news and that's where my heart is, and it's what I obsess about all the time." Cooper is a regular fill-in for Regis Philbin, and while some speculate about a future role at CBS, a show like this could be another option.
As for the upcoming Parker Spitzer, which premieres October 4, Cooper says, "I've heard rehearsals have gone really great, and I think they're a dynamic pair and incredibly smart and I'm looking forward to it."
Piers Morgan begins his CNN show in January, and while Cooper says it's "exciting to see changes" he's "glad Larry's still going to be involved with the network."
Here's the full interview with Cooper and Ripa (with the lovely iPhone video I probably should have turned sideways):

(photo: Disney-ABC Domestic Television)
—–
» Follow Steve Krakauer on Twitter
Have a tip we should know? tips@mediaite.com