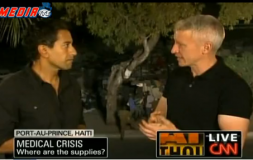 Eight days after the earthquake that struck Haiti things appear to be getting worse not better for suffering and traumatized Haitians. The desperately needed aid is simply not getting through and one doesn't have to look far to see the anger and frustration over the lack of help — and the inability to offer help — taking it's toll on the journalists there. The Independent's Guy Adams has made no attempt to hide his frustration with the lack of apparent aid since landing in Haiti last week, and it appears even the patience (and objectivity) of CNN's Anderson Cooper, who was the first journo to land there, and Sanjay Gupta are wearing thin.
Cooper's frustration was particularly apparent last night as he discussed with a seemingly overwhelmed Gupta the lack of follow-up care for patients who had been rescued and undergone surgery, and who were now dying due to untended complications. "They are giving Motrin to people who have had their limbs amputated!" Cooper also vehemently debunked the security scare stories coming out of the country saying that he has never felt threatened and he thinks the extra security details people are traveling with may be part of what's slowing down the aid. Video below:
Meanwhile, NPR has joined the slowly growing chorus of media critics questioning the presence of celebrity doctors in Haiti.
While many viewers may cheer, that's giving pause to some media and medical ethicists, who say it can distort both the journalism absorbed in the U.S. and the care delivered in Haiti.

"What disturbs me about the media doctors is that they are basically pulling telegenic people out of the queue and giving them exceptional resources," says Dr. Steven Miles, a medical professor and bioethicist at the University of Minnesota.
The doctors are wrestling with the same questions, however. This from NBC's Nancy Snyderman:
"I didn't sleep at all the first night I was here wrestling with just that," Snyderman tells NPR by phone from Haiti. "I'm usually very careful in the United States that when I'm in the hospital, my journalism hat is not on … and I'm very cognizant of the fact that here, the lines are terribly blurred."

She says that she has been asking herself these questions each day: "What is my job? Where do I make the biggest difference? Or should I try to do both? Do I plug as many holes as I can at the moment and then do I scramble back to tell the stories to 6 million people?"
Anderson Cooper and Sanjay Gupta video after the jump.
Have a tip we should know? tips@mediaite.com