Ann Coulter Laments To Ingraham: If Romney Can't Win In This Economy, 'It's Over. There Is No Hope'
Ann Coulter Laments: If Romney Can't Win In This Economy, 'It's Over. There Is No Hope'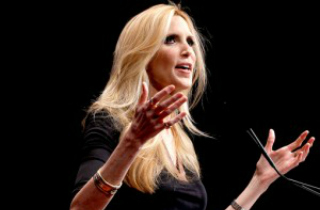 Ann Coulter joined Laura Ingraham on her radio show on Wednesday to discuss the outcome of the election. Coulter defending Romney's run, but offered bleak prospects for the future of the conservative movement: "There is no hope."
Romney ran a "magnificent campaign," Coulter said, adding that he was the "perfect candidate," comparing his campaign with Ronald Reagan's. Ingraham incredulously disagreed. Nonetheless Coulter offered her outlook, which she described as "pessimistic."
"People are suffering. The country is in disarray," she said. "If Mitt Romney cannot win in this economy, then the tipping point has been reached. We have more takers than makers and it's over. There is no hope."
Ingraham argued that Romney was excellent in the first debate, but after that, she didn't know where he went. Many times during speeches, she said, it simply seemed like he wasn't "connecting with the material."
"I can't imagine that you, having seen the Ronald Reagan apparatus and Ronald Reagan's booming and persuasive oratory," Ingraham said, "would say that Mitt Romney's speeches were in any way Reaganesque or approaching them."
Ingraham further rejecting Coulter's pessimism noting "fighting for the country" doesn't end "because we have a candidate who was a one-term governor from Massachusetts who couldn't pull it together and lost by a couple of percentage points."
Rather, she argued, conservatives need an "articulate, smart, movement-type person at the helm." Reagan had a different electorate, Coulter said, and Romney absolutely would have won in the same electorate. She also argued that members of the House simply can't succeed with presidential runs, and we should stop voting for them in primaries.
Later in the segment, she again lamented that Romney was the man for the job:
Mitt Romney was the president we needed right now, and I think it is so sad that we are going to be deprived of his brain power, of his skills in turning companies around, turning the Olympics around, his kindness for being able to push conservative ideas on a country that no longer is interested in conservative ideas. It is interested in handouts.
Ingraham responded by noting her love for Coulter, and then going on to reject her pessimism. "I think you're just going through a demoralized period, and I get it, I'm demoralized too," she said, "but that is just B.S. I think the country is craving leadership. Barack Obama is filling that vacuum right now."
"Pep up, chin up," Ingraham told Coulter. "Dust yourself off. Move forward, girl."
Listen below:

Have a tip we should know? tips@mediaite.com