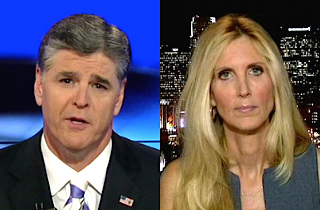 Neither Sean Hannity nor Ann Coulter are particularly pleased with the leadership of the Republican Party right now, but they disagree when it comes to a solution. During an appearance on Hannity's radio show, Coulter told the host he shouldn't be so quick to dismiss John Boehner as a "horrible speaker," especially since he decided to sue President Barack Obama.
"We can't just abandon the field right now. You have to vote Republican, even for crap-ass Republicans," Coulter said after Hannity aired some of his grievances with the party.
While Coulter declined to name with members of the GOP she was referring to, Hannity offered up his own example. "Starting with John Boehner," he said. "John Boehner should not be speaker of the House. He's a horrible speaker. You know I'm right, stop arguing."
Coulter said the only thing that bothers her about Boehner is his "push for amnesty," which he "seems to have abandoned" for now. Besides that, she added, "I love his lawsuit against the president. I don't know what people are upset about that." She claimed that it isn't "wasting anyone's time" (though it is expected to cost taxpayers $2-3 million) and said she hoped it would reign in "this power-mad president."
Hannity disagreed, saying the lawsuit is merely "symbolic" and that House Republicans should be using the "power of the purse" to stop Obama instead.
"Why are we attacking Republicans right now?" Coulter asked. "There are a lot of bad Republicans, there are no good Democrats. The country is in the balance. You have to vote Republican right now!"
When Hannity said all he wanted was a conservative party with "bold color differences" instead of "pale pastels," Coulter shot back, "You're just talking into the wind!"
Listen to audio below, via The Sean Hannity Show:
[h/t Mofo Politics]
[Photo via screengrab]
— —
>> Follow Matt Wilstein (@TheMattWilstein) on Twitter
Have a tip we should know? tips@mediaite.com