'Anti-Sharia' GOP Lawmakers Confuse Mop Sink For Muslim Foot-Washing Station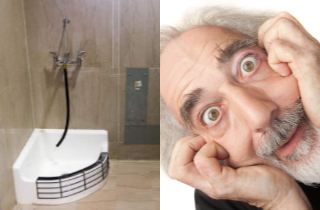 Vocally "anti-Sharia law" GOP lawmakers in Tennessee had their fears quelled this week when they were assured that a mop sink in one state Capitol building was not secretly installed for use as a Muslim foot-washing station.
Tennessee's legislature has long been the stage for some "anti-Sharia" efforts, including a 2011 bill proposal to make following certain tenets of the Muslim code a felony. The law, pushed by GOP lawmakers Sen. Bill Ketron and Rep. Judd Matheny, would have made illegal the Muslim practice of foot-washing before prayer, as well as some religion-specific dietary restrictions.
Of course, when you believe Sharia law is creeping into every facet of your daily life, you will likely believe that recent renovations to the state's House Chamber building included the installation of a sink for Muslims to wash their feet before praying.
With that in mind, guess who was allegedly worried that a simple mop sink was secretly a post for Muslim foot-washing? If you guessed Ketron and Matheny, you win a good, hearty chuckle.
After Matheny allegedly raised the issue to his anti-Sharia brother-in-arms Ketron, the latter claims to have brought their concerns to Senate Clerk Russell Humphrey, asking why a utility sink that was once higher on the wall had been replaced as part of renovations to the House chamber bathroom. The offending sink below: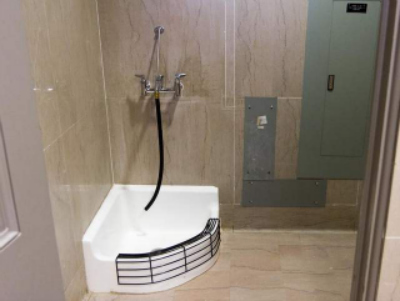 And so began an effort on the part of building managers and legislative staffers to assure the pair that no, the state did not install the new sink as a special place for Muslims to wash their feet before praying.
"I confirmed with the facility administrator for the State Capitol Complex that the floor-level sink installed in the men's restroom outside the House Chamber is for housekeeping use," Legislative Administration Director Connie Ridley wrote.
"It is, in layman's terms, a mop sink."
After being reassured that the House bathroom was not part of creeping Sharia law, Ketron told the press: "I just asked the question about what was the intent of that. And it satisfied my curiosity after it was presented to me."
His colleague Matheny, however, denied his involvement in the inquiry. "I don't know what you're talking about," he told the AP last week.
[h/t The Tennesseean]
[stock image via Shutterstock]
— —
>> Follow Andrew Kirell (@AndrewKirell) on Twitter
Have a tip we should know? tips@mediaite.com