Apple Takes Down New York Times Apps in China After Request From Chinese Government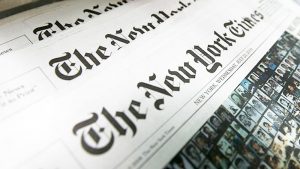 The New York Times reported today that their iTunes apps were removed in China last month after Apple was contacted by and complied with Chinese authorities.
The publication stated that both the English-language and Chinese-language apps were removed on December 23rd, which happened a day after the paper published a piece about a Chinese propaganda video warning about the West's "devilish claws."
The Times were told by an Apple spokesman that China told Apple the paper was in violation of local rules.
"We have been informed that the app is in violation of local regulations," Fred Sainz, an Apple spokesman, said of the Times apps. "As a result, the app must be taken down off the China App Store. When this situation changes, the App Store will once again offer the New York Times app for download in China."
Sainz wouldn't tell the Times what violations they committed and who had personally contacted Apple.
The paper also noted in the piece that their websites have been blocked in China since 2012 and that hackers with potential ties to China later went after the Times' computer systems.
When asked by the BI Times about the story, a Times spokesman told them the following:
"The request by the Chinese authorities to remove our apps is part of their wider attempt to prevent readers in China from accessing independent news coverage by The New York Times of that country, coverage which is no different from the journalism we do about every other country in the world."
Currently, as highlighted by the NYT, The Financial Times and The Wall Street Journal are available in the Chinese app store.
[image via New York Times]
–
Follow Justin Baragona on Twitter: @justinbaragona
Have a tip we should know? tips@mediaite.com