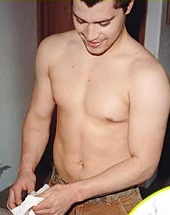 When Oprah asked Sarah Palin about Levi Johnston's Playgirl shoot, she said, "I call it porn." But is it?
The NSFW pictures prove that Levi didn't show us everything — so to speak — and the pictures don't include any frontal nudity. The pictures of the 19-year old are no more explicit than what you'd see on an episode of Nip/Tuck and less (homo)erotic than an Ultimate Fight Championship match. Some shower shots with a strategically-placed towel, a naked backside and some steamed-up mirror pics. That's it.
While porn doesn't have to be erotic, it usually does need to be explicit. As Justice Potter Stewart said in his concurring opinion in 1964 obscenity case, "I know it when I see it." It's hard to know what Justice Stewart would say about Johnston's soft-core erotica, but he probably wouldn't consider it porn either. Not sure what he'd say about Carrie Prejean's videos.
Glancing at the Johnston pics and perusing the free parts of Playgirl.com, it's easy to think that the porn threshold has been raised and that beefcake pics of a 19-year old baby daddy just aren't that shocking. You can see more explicit pics on a Google image search of almost any random phrase.
Johnston's decision to strip for Playgirl follows an oddly common script: young person without much other talent taking advantage of a few minutes of fame — or desperate for a little money — and posing naked before the cameras. Women have been doing it for generations and Johnston is just putting his spin on the rather sad tale.
Johnston has gotten a lot of attention in gossip and entertainment world, but also plenty of buzz in the gay press and blogosphere. At Advocate.com, the gay news and entertainment site acknowledged that it had been all-Johnston, all-the-time and asked Playgirl marketing director Daniel Nardicio — who founded DList.com, the gay social networking/hook-up site — about Johnston's gay appeal. Nardicio's response: "It's because he's hot! And it's political."
While his being "hot" is still up in the air, there's not doubt that he's political even if we don't know a thing about his political beliefs. He was thrust onto the public by Palin and he instantly became a celebrity, even though his only claim was having gotten the candidate's daughter pregnant.
Now, he's a 19-year old with a kid who has a famous grandmother. His own meth dealing mom just got sentenced to jail for three mom, the grandmother is trashing the father on Oprah, and all he has to show for it is a fickle gay fanbase and some Playgirl shots in a towel.
So, is it porn? Probably not to most people, not even most people in Palin's support base. But that doesn't mean it isn't a little sad, especially when you consider how Johnston ended up stripped down to a strategically-placed towel.
Have a tip we should know? tips@mediaite.com