At Rally, Catholic Bishop Warns Obama Is 'Following A Similar Path' To Hitler, Stalin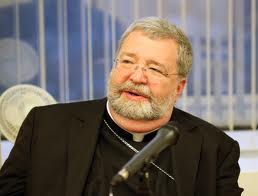 Over the weekend, Catholic Bishop Daniel Jenky spoke critically of President Obama during Mass at an event titled "A Call to Catholic Men of Faith." Speaking about past attacks on the Catholic Church, Jenky alluded to Adolf Hitler and Joseph Stalin, adding that Obama is following a "similar path."
"The church survived barbarian invasions. The church survived wave after wave of Jihads. The church survived the age of revolution," Jenky said. "The church survived Nazism and communism. And in the power of the resurrection, the church will survive the hatred of Hollywood, the malice of the media and the mendacious wickedness of the abortion industry."
He went on:
"The church will survive the entrenched corruption and sheer incompetence of our Illinois state government, and even the calculated disdain of the president of the United States, his appointed bureaucrats in HHS and of the current majority of the federal Senate. May God have mercy on the souls of those politicians who pretend to be Catholic in church, but in their public lives, rather like Judas Iscariot, betray Jesus Christ by how they vote and how they willingly cooperate with intrinsic evil.

[…]

Hitler and Stalin, at their better moments, would just barely tolerate some churches remaining open, but would not tolerate any competition with the state in education, social services and health care. In clear violation of our First Amendment rights, Barack Obama — with his radical, pro abortion and extreme secularist agenda — now seems intent on following a similar path."
The bishop spoke to a rally of around 500 people.
Take a listen:

(H/T Catholic Post via ThinkProgress)
Have a tip we should know? tips@mediaite.com